DERBY LINE — Borderline Players is getting ready to present the comedy Let's Murder Marsha! by Monk Ferris at the Haskell Opera House.
The show will run October 18-20 and 25-26.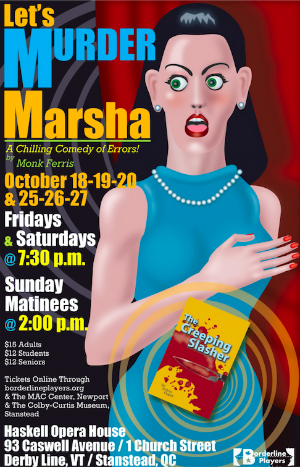 In this madcap romp of murderous plots, a happy housewife named Marsha, hopelessly addicted to crime thrillers, overhears her loving husband discussing her upcoming birthday surprise with an interior decorator…or are they planning foul play?
With the help of her maid and neighbor, Marsha schemes to turn the tables.
The play is directed by Todd Cubit and stars Mary S. Hoadley as Marsha Gilmore, Roderick J. Owens as Tobias Gilmore, Kathryn Maurice as the maid Bianca, Ross Murray as neighbour Virgil Baxter, Jessi Sackett as designer Persis Devore, Jaime Comtois as Lynette Thoren, Marsha's mother, and Raiden Brown as Ben Quade, Bianca's boyfriend.
Showtimes are 7:30 pm on Fridays and Saturdays with Sunday matinees at 2:00 pm.
Prices are $15 for adults (18-64), $12 seniors (65+) and $12 students.
Tickets are available at the Colby-Curtis Museum in Stanstead and at the door, or reserve by contacting borderlineplayers@outlook.com.
Tickets also available online (U.S. funds) at https://borderlineplayers.org.