DERBY LINE – Southern and Northern fiddle traditions will come together in an international setting as Haskell Opera House presents an evening with David Greely, Mairi Rankin and Ailie Robertson Thursday, May 25 at 7:30 p.m.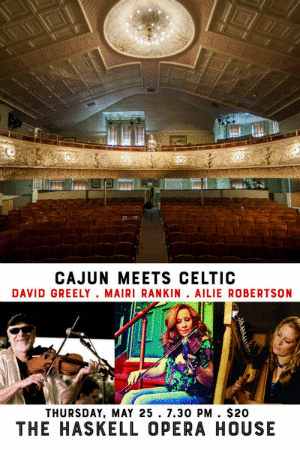 David Greely's French Louisiana music is opening a new wing in his tradition. David has taken the swampy syncopations of Cajun music and its renaissance French dialect to new level of sophistication without losing its urgency and texture.
In solo acoustic performance, he sounds like two or three fiddles, weaving accompaniment to his vocals as if it's someone else singing. 
David was born in Baton Rouge of Cajun and Irish ancestry and learned Cajun music on dance hall stages throughout South Louisiana, in the archives of Cajun and Creole music at the University of Louisiana in Lafayette, and from his apprenticeship to Cajun fiddle master and National Heritage Fellow Dewey Balfa.
As a founding member of Steve Riley and the Mamou Playboys, David toured Folk Festivals worldwide for 23 years, and was nominated for four Grammy Awards. He has received the Louisiana Artist Fellowship Award for Folklife Performance, and is an adjunct instructor of Cajun fiddle at the University of Louisiana.
Winner of Best Group in both the Live Ireland awards and the Tradition In Review awards, the Rankin/Robertson Duo are one of the top Celtic acts in the world.
With their band The Outside Track, they were Best Live Act nominees in the 2013 MG Alba Scots Traditional Music Awards and won the German Radio Critics Prize 2014 for their latest album Flash Company.
Mairi Rankin is a member of the legendary Rankin Family from Cape Breton, while Ailie Robertson hales from Edinburgh is widely regarded as one of Scotland's leading young traditional musicians.
The duo blend fiddle, harp, step-dance and vocals with breathtaking vitality. Their boundless energy and unmistakable joie de vivre has won them a large following around the globe.
Don't miss this incredible evening. Tickets are $20 (Cdn) and are available through Picatic, haskellopera.com and at the box office day of the concert.
Doors open at 6.30 p.m. The concert will begin promptly at 7.30 p.m.
Look for a full lineup of musical and theatrical performances this summer at the Haskell Opera House, including QNEK's Guys and Dolls, Juno Award winner Whitehorse July 5 and CCMA Award winner Lindi Ortega August 15.
For more information, contact Hal Newman at opera@haskellopera.com.