NEWPORT — Recycled art is not something that's beautiful but just a waste of time and space. It's like alchemy which turns base metal into gold. The MAC Center for the Arts, located at 158 Main Street, in Newport, will be celebrating the second annual Recycling Exhibit.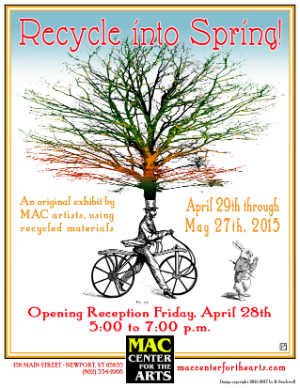 The opening day will be April 28, 2017 with a reception from 5:00 – 7:00 p.m.
The event is free, and all are welcome to attend.
The exhibit will continue thru May 27 and features artists repurposed and recycled whimsies and unique sculptures making for an interesting and sometimes odd exhibition.
A call to artists for this unusual exhibition engages the talents of many local collective artists guilds in the Northeast Kingdom.
Visit the MAC Downstairs Gallery for some rediscovered artistry that leaves no carbon footprint. Visitors are promised to be amazed by the beauty of reformed trash.
For more information, visit www.maccenterforthearts.com or call 802-334-1966.