NEWPORT — The MAC Center for the Arts is proud to present Phyllis J. Hammond – A Retrospective. An opening Reception and Vernissage will be held Friday, July 1, from 5-7 p.m. at the MAC Center for the Arts, 158 Main Street, in Newport.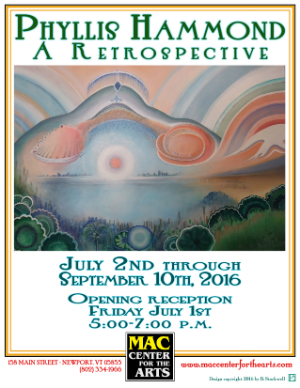 The exhibit continues through September 10, 2016.
Phyllis Joy Hammond, a longtime resident of Newport Center, Vermont, died on February 3, 2016 at the age of 88.
A prolific artist working primarily in watercolors and acrylics, Hammond operated from her tiny PJ Hammond Art Gallery on the Lake Road, which was the former barn of her beloved Morgan horse, Smoky.
Her work was highlighted at the MAC Center for the Arts along with her three books that captured her love of wildflowers, northern landscapes and sharing art with children.
Phyllis was born in July 4, 1927, the daughter of Gordon Crothers Sleeper and Martha Moler Sleeper in Long Island, New York. As a youngster she studied watercolor with Elsa Bley. She attended Wellesley College and later studied with Hyman Bloom and took courses at the New York Botanical Gardens, presaging her life-long love of flowers.
Hammond began traveling to Lake Memphremagog as a child, where her parents owned summer homes and in 1957 she married Milton Dale Hammond. Phyllis and Milton were married for 54 years until Milton's death in 2012.
Hammond had a long love affair with northern landscapes, she lived several miles from the Canadian border.
Underlying themes of her work were wildflowers, forest foliage, mountains and seeing more spiritually.
In 1998, at the age of 71, her life took a decidedly entrepreneurial turn with the writing and publication of "Traveling with Wildflowers: from Newfoundland to Alaska." As a result of the book's publication, Hammond was invited to speak in Denali National Park, Alaska, St John's Botanical Garden in Newfoundland and at many flower shows.
An article featuring her and her book appeared in Vermont Magazine. Along with book sales, she sold thousands of lithographs, prints, postcards, and bookmarks base on the artwork in Traveling with Wildflowers.
The family of Phyllis Hammond have provided a philanthropic caveat for the exhibit, that all books and prints sold will be a 100% benefit to the MAC Scholarship fund.
For more information about this exhibit, please visit www.maccenterforthearts.com or call 802-334-1966.