DERBY LINE — Community National Bank recently presented donations that will help two local organizations with ties to the Derby Line community.
Community National Bank Executive Vice President Kathy Austin recently presented Haskell Free Library Director Nancy Rumery with a donation of $5,000.00.
The Haskell Free Library shares space with the Haskell Opera House found in Derby Line, and Stanstead, Quebec.
The building was constructed in 1901 to provide these two border communities a place for learning and cultural enrichment. It's the only building in the world that is split in two by an international border.
Through the summer, employees of all branches of Community National Bank held a weekly "Jeans Day," and those wanting to wear jeans at work on that day could do so by donating toward a local nonprofit.
The tellers at the Derby Line branch chose to have their contributions given to Green Mountain United Way (GMUW), an organization that supports early learning, financial stability, healthy living and basic needs for the people of the Northeast Kingdom.
Accepting the check was Madeleine Roy, Marketing Director for GMUW, whose office is located in Derby Line.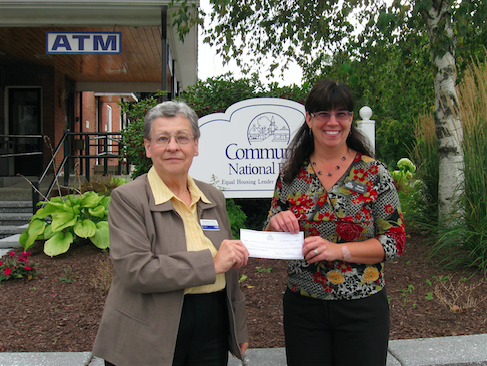 Are you on Instagram? Cool. So are we. CLICK HERE to follow us for a behind the scenes look at Newport Dispatch.
.