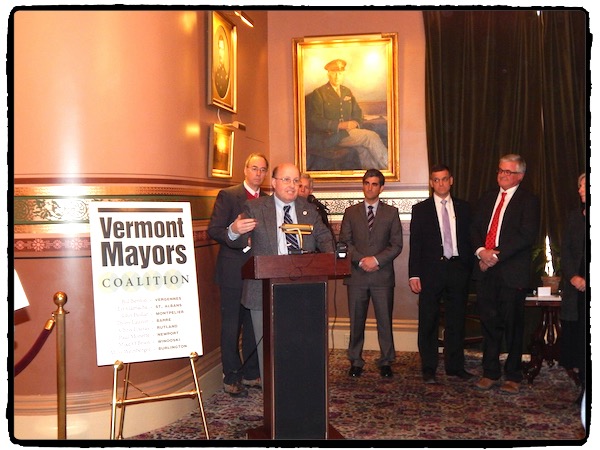 Newport Mayor Paul Monette sent in this letter to the editor:

Voters should re-elect me as Mayor for several reasons

i. I want to ensure the proposed development projects planned for Newport are completed without roadblocks from the state or the Act 250 board. It is unfortunate there have been delays due to permit delays and that is why ANCBio did not break ground this past fall but is scheduled for this spring. Many do not understand what has been required just to tear down the block on Main Street. It took lots of planning for the lead and asbestos removal but we should see the building torn down in March. 

ii. With the implementation of Form Based Code and our tax stabilization policy Newport is indeed open for business and the permitting process is very easy compared to the state, etc. This is something I pushed for since becoming Mayor. The overall economic condition in Vermont and the country has made it very difficult to attract business and I know there are possible retail stores interested in locating here but they are waiting for Wal-mart to get their permits. We have seen action on Main Street with the new Maplefields and the building, where the bookstore was located, undergoing a major renovation. This is an excellent indication that others see the future of Newport and our downtown. We must continue to work on a diverse economy. We cannot rely solely on tourism but also on manufacturing among other sectors of the economy to grow Newport. 

iii. I have been working with the seven other mayors to ensure the legislation coming out of Montpelier will not negatively impact our community. There are many issues from stormwater to the Derby PSAP. I have urged the Governor not to close the Derby PSAP and questioned why he would send good paying jobs from the county with the highest unemployment and poverty rates to a county with low unemployment and poverty. Another issue is the cleanup of Vermont's waterways. We want to make sure the cost is not just borne by municipalities with wastewater facilities but by everyone in the state. I have been asked to testify before the Senate Ag. committee about Senate bill S.49 and how it will affect Newport. 

iv. I want to be re-elected to continue working for all residents of Newport. Whether it is the group working on a warming shelter to a recovery center. I have been attending the recovery center meetings each month and it is important for the city to be represented. After traveling to Morrisville to learn about their center and chatting with the Mayor of St. Albans I certainly the need and how it has helped their communities. The state is also looking for a center in this area of the state. The only concern would be a possible burden on the city taxpayers and that cannot and must not happen.

v. I want to be re-elected to continue working with Customs and Border Protection to make it easier for the Canadian tour boat to dock in Newport. This will help our downtown businesses and restaurants. Right now they are not allowed to come down from Magog to Newport due to border issues. We all know border security is vital but it cannot be so restrictive that it hurts our local economy.
vi. If re-elected I will continue to ensure there is transparency in city government and taxpayers monies are not wasted. Newport's homestead and non homestead tax rates are the third highest in the state and that is why we must work to grow our grand list and to ensure taxpayers monies are not wasted.
To conclude I am asking the voters to re-elect me as their Mayor. I have transformed the office of Mayor from being ceremonial to being a hands on working Mayor. I am respected around the state and have worked hard to make sure Newport's voice is heard in Montpelier and around the state.
I strongly believe in public service and have served as Chair of the Goodrich Memorial Library board of trustees, Vice President of the NEK-TV board and am currently President of Vermont's North Country Chamber of Commerce. I am committed and not afraid to put in the hours to get the job done.
Are you on Instagram? Cool. So are we. CLICK HERE to follow us for a behind the scenes look at Newport Dispatch.
.