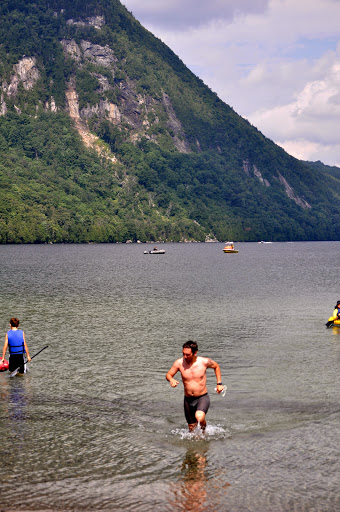 WESTMORE — The inaugural Willoughby Triathlon is now in the books. Nine adventurous solo triathletes and two relay teams took on the challenge on Saturday under sunny skies and light winds. The overall winner was Daniel Porier, 42, of Magog, Quebec.
Daniel took down the 7 mile bike on the CCC and Bartlett Mountain Roads, the 1.2 swim from South Beach to Devil's Rock and back, and the 2.5 mile run from the beach and up the South Trail to the finish at the summit of Mount Pisgah, with a time of 1:34:22.
Not far behind was Martin Ladouceur, 44, also from Magog. Win Whitcomb, 51, of Northhampton, Mass, took third.
Leading the ladies was Rebecca Ryan, 57, of Huntington, with a time of 2:06:12, followed closely by Jill Mathers, 48, of Newark, and Hayley Joseph, 52, of Newport.
Fastest time of the day was posted by the Relay Team of Carter Stowell, 42, Peter Hirschfeld, 36, and Eileen Hee, all from Worcester, with a time of 1:32:30. It made for a great race to the finish between the boys of Magog versus the fresh legs from Worcester.
Daniel Poirier said he knew he would like the race when one of the safety warnings was to watch for falling children jumping off Devil's Rock.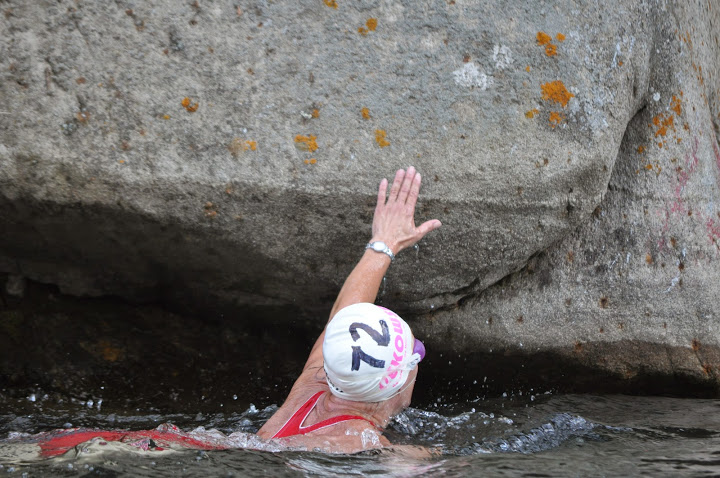 All the reviews following the finish and the walk back down the mountain were overwhelmingly positive.
In the afternoon's Willoughby Youth Tri, three children took on the 100 yard swim, the 0.6 mile bike, and the 1 mile run up to Pulpit Rock with impressive times.
Anna Betz, 11, of Jericho, finished in time of 0:27:40. Taylor Carlson, 8, also from Jericho won the boy's division, just one minute behind Anna. The youngest contestant of the day, walk-on 6-year-old Aubriella Holden, was just 4 minutes behind Taylor.
Organizers intentionally kept the numbers low this year, to try out the course, and to make sure it worked for the athletes. During the days leading up to the event and during race day itself, a wonderful relationship evolved with the owners at White Caps Campground, whose support Organizers said made all the difference.
Westmore Fire and Rescue helped with coverage as did volunteers, Gordon and Cindy Chafee, Karin Doane, Laura Dolgin.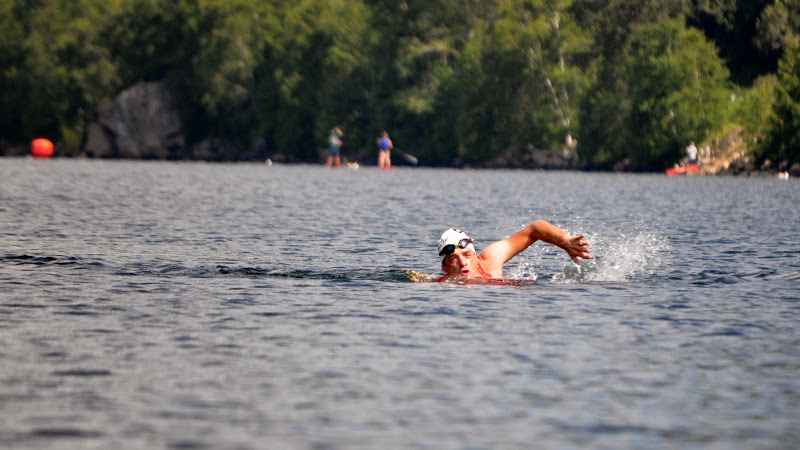 With the first race such a success, organizers have already declared that the race next year will be held on Saturday, July 18, 2015. The event next year will be capped at 50 adults and 25 kids to see how things go with those numbers, before organizers consider opening things up to a larger field of contestants.
Twenty percent of all US adult registration fees from the event were split between Memphremagog Ski Touring Foundation and Northwoods Stewardship Center, and twenty percent of Canadian registrations are dedicated to the Christian Vachon Foundation.