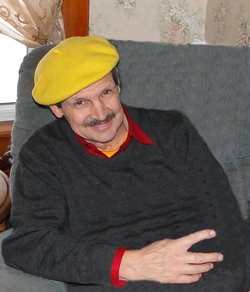 NEWPORT — "The way the sky meets the hills and landscape, and the way the seasons change appearance in shapes and light, have played a large role in expanding my perception of the environment. This has helped me to see more than just the reality of the view."
Adrien Patenaude, the man who will be remembered as Adrien "Yellow," for his signature use of the color in all of his paintings, passed away on Tuesday. The quote above is taken from the artist's website.
Like all great art, Patenaude's work had the ability to make one question the "reality of the view." What we have is Patenaude's view, left behind in his work. His paintings teach us how to look at our surroundings in our own personal way. Our own reality.
"I have a passion for the visual life of Vermont's landscapes," Patenaude wrote at his website. "Its mountain views, barns and birch trees leads me to a romantic interpretation of Vermont heritage in the Northeast Kingdom."
Newport mourns the loss of this great artists, and he will be missed by all who knew him, even if just in passing along the streets of Newport wearing his yellow beret.
He will be missed.
Below is the artist's obituary.
ADRIEN R. PATENAUDE
Adrien Rufus Patenaude of Newport, VT, passed away on May 13, 2014, at age 64. He died peacefully at the Fletcher Allen Health Center after a brief and courageous battle with esophageal cancer. He is now gone to his heavenly Father.
Adrien was born in Newport, VT on April 10, 1950 to Joseph and Lucille (Fontaine) Patenaude and grew up on their farm in Holland, VT. Adrien attended Holland Central Schools and North Country Union High School and graduated in the class of 1970. He attended the Swain School of Design in New Bedford, MA and graduated with a Bachelor Degree in graphic design. He had various jobs (and later had his own company) in the Burlington area, worked in Maine and finally returned to run a business in his home town area of Newport, Vermont.
Adrien was a very talented artist with many wonderful paintings and also produced many local signs. He had a passion for nature and landscape scenes and sold paintings locally and internationally. His paintings have been displayed in many different galleries all over New England and are also on display at Jay Peak and many other places. His art work will live on in all of his paintings. He was a long time member of the Saco Bay Artists in Maine.
Adrien was very generous with donations of his paintings to many local worthy causes. He was well known in the Newport and the surrounding area. His signature name was Adrien "Yellow" Patenaude because he loved yellow so much and put it in all of his paintings. He recently finished illustrating a book for the famous poet and author, Jerry Johnson. The name of the book is "Noah's Song" and will soon have a special edition coming out in Adrien's memory. There is also a CD with the book with "Noah's Song" sung by Jon Gailmor.
He is survived by a son, Aaron Patenaude, who is stationed in Fort Drum, NY and Aaron's mother, Carol Forbes, of Leland, NC. He is also survived by his loving girlfriend of 11 years, Patricia Warner of Newport, her two children Steve (and Jean) Warner with 3 children of Springfield, VT and her daughter Loraine (and Gene) with two children of MA.
He is survived by his parents, Joseph and Lucille (Fontaine) Patenaude and 3 brothers and 5 sisters. They are George (and Gale) Patenaude of Richmond, Diane (and John) Forcier, of Colchester, Susan (and Bertrand) Letourneau, of Holland, Marcel (and Gaetane) Patenaude, of Holland, Joanne (and Michael) Aulis, of Franklin, NH, Christine (and Gary) Sykes, of Norton, Alan Patenaude, of Rutland, and Anna (and Jeff) Hutchins, of Westford. He is also survived by many Aunts, Uncles, cousins, nieces, nephews, great-nieces and great-nephews. He was predeceased by his twin sisters, Faith and Hope, who died at birth in 1949.
Pat Warner and Adrien's family wish to express their appreciation and gratitude for all the care that Adrien has received for the last 4 and ½ years during his kidney dialysis, both in the hospital and home dialysis teams and doctors, both at North Country Hospital and at Fletcher Allen Health Care. Also a heartfelt thank you to all the doctors and nurses and other staff at the Fletcher Allen Health Care who helped Adrien in the last 2 extremely difficult weeks of his esophageal cancer. He knew most of you by name and was always sharing his passion for his art with all of you.
A Mass of Christian Burial will be celebrated on Saturday, May 17, 2014, at 11:00 a.m. at St. Edward's Catholic Church on Elm St. in Derby Line, Vermont. There will be no calling hours, per Adrien's request. The burial will follow at St. Edward's Cemetery on Elm St. in Derby Line.
In lieu of flowers, donations may be made to: FAHC Renal Home Program, 35 Joy Drive, So. Burlington, VT 05403 (In memory of Adrien Patenaude).
On-line condolences may be sent to the family through the funeral home website at www.curtis-britch.com. Arrangements are entrusted to the care of Curtis-Britch-Converse-Rushford Funeral Home, locally family owned and operated.