STANSTEAD, QC — You can sometimes tolerate mediocre food if a restaurant has other things going for it. You can even tolerate a wonderful meal, if the dining room is less than spectacular. In both cases, you may find a restaurant you will visit from time to time, but it will never make your personal favorites list. It will never be the kind of place that you rave to your friends and family about.
However, when an exciting chef works in a location that is just as exciting, you have the type of restaurant that not only makes the list, but climbs to the top. Such is the case with Les Terrasses Dufferin, located in Stanstead, Quebec.
There are many reason to be excited about Les Terrasses Dufferin. First of all, there are few places anywhere that have such an interesting location. Located inside the old Stanstead customs building, it is literally just across the border from Derby Line on Route 5. The building is as beautiful as it is historic. The dining room mixes modern and classical styles, creating a comfortable and elegant ambience.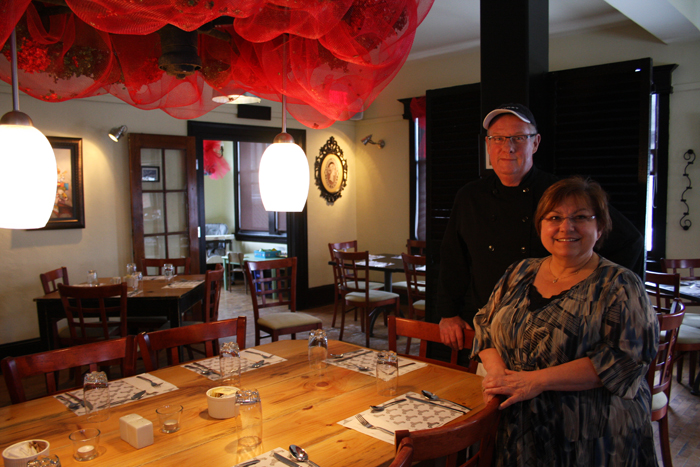 The co-owner and chef of Les Terrasses Dufferin is Roland Troadec. Originally from France, he comes to Stanstead with 35 years of experience, having worked the last ten in Montreal and Quebec City. He brings with him not only the experience and reputation of a world-class chef, but also a respect for keeping dining prices within reason.
This brings us to another key reason to be excited about Les Terrasses Dufferin. They offer an elegant menu at a price that matches what most people are willing to pay. It is fine dining in every sense, but for a price matching the economic situation of the area. The menu has something for everyone.
"Because the chef is French, we have a little bit of a French flavor, but, we have adapted our menu to please everyone," co-owner Line Vallieres Thériault said. "We want to give our customers a variety."
Originally from Sherbrook, Line lived most of her life in Montreal. She came to the Eastern Townships five years ago. When she found out that the old customs building, which used to be a restaurant called La Vieille Douane, had closed at the end of August, she approached the owners and asked if it would be possible to rent the space to start her own restaurant.
When they agreed, she contacted Roland to see if he was interested in becoming a partner in the business. He came down from Quebec City, and they did some minor renovations over the next two months. Les Terrasses Dufferin opened last Thursday, a completely different restaurant than La Vieille Douane.
Les Terrasses Dufferin is named after the beautiful terrace along Rue Dufferin that sits out front of the restaurant. During the warmer months, visitors can eat outside on the terrace. There is also a terrace located in the back of the building, facing the Tomifobia River, where tables will be set as well.
Fondue, steak, and pasta are some of the staples of the menu, with daily lunch specials also offered. They are equipped to handle groups, rent the space out for parties and events, and offer a catering service if needed. There is even a café set up separately from the dining room, which offers wifi.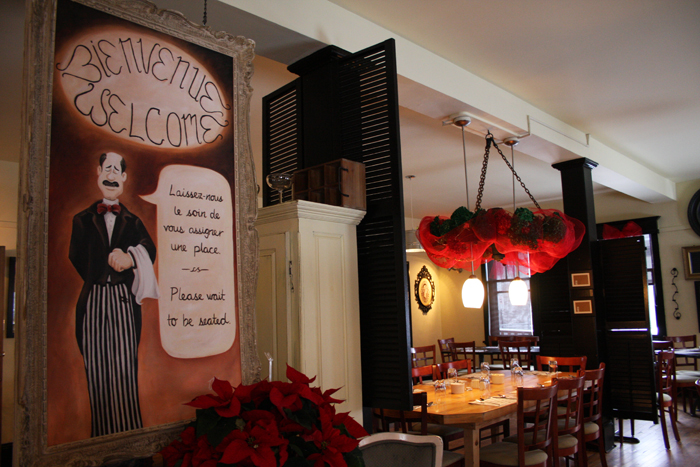 When I asked Ms. Thériault what she feels customers will remember most after a visit, she paused for a moment, and then smiled.
"That we have the best food," she said, breaking out in laughter.
Although only half -joking, it is a claim Les Terrasses Dufferin is certainly working to back up.
Having tasted the spaghetti, as well as an amazing couscous salad, Les Terrasses Dufferin will be a place I will frequent when the terraces are open.
They have a brunch on Sunday, which starts at 9 a.m. and runs until 2 p.m. It is all you can eat, and would make the perfect start to a day spent on the other side of the border, visiting the beautiful Eastern Townships of Quebec.
For more information, call Les Terrasses Dufferin at: 819-704-3330
Are you on Instagram? Cool. So are we. CLICK HERE to follow us for a behind the scenes look at Newport Dispatch.
.