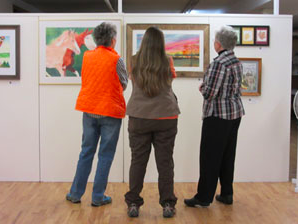 NEWPORT — The MAC Center for the Arts, located at 158 Main Street, will host the Fourth Annual Vermont Watercolor Society Exhibition entitled "Memories." The show will start Friday, September 18, running through Saturday, October 31, 2015.
Founded in 1995 by a small group of painters, the Vermont Watercolor Society (WVS) currently boasts over 240 members.
The Society is dedicated to promoting the awareness and appreciation of watercolour to a membership of all levels of ability and to the community by providing opportunities and venues for participation, education, fellowship and exhibitions.
The VWS is a state-wide non-profit arts organization. Due to its broad demographics, regional events are coordinated throughout the year.
MAC Center for the Arts has the honor and distinction of being one of those venues.
All are welcome to come out to the MAC for the Opening Reception Friday, September 18, from 5 – 7 p.m.
This captivating evening will afford patrons the opportunity to view breathtaking and unique works as well as meet a plethora of local and regional watercolor artists. All the art will be juried and fortunately for the attendees it will also available to purchase.