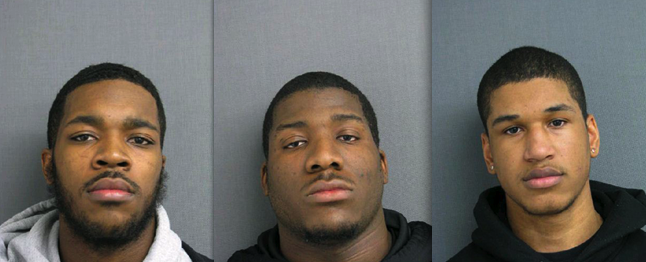 LYNDONVILLE — The Lyndon State College men's basketball team is dealing with some March Madness, and it's not the kind associated with the single-elimination Division I college basketball tournament performed each spring in the United States. Three members of the team are facing charges related to an incident that happened on March 11, during a pick-up basketball game at the school gymnasium.
The story starts with Howard Lyles, who was the starting point guard for the Hornets. Lyles was considered by some to be the team's star player.
In January, Lyles was ejected from a game against Castleton for allegedly punching another player. Video of the event (watch video below article) does not show conclusively that Lyles did commit the offense. Regardless of the nature of the incident, Lyles was dismissed from the team. He was also not allowed inside the LSC's athletic facilities.
Fast forward to March 11, Lyles, and some other members of the basketball team were playing a game of pick-up, when security guards spotted Lyles inside the building. They asked him to leave, but according to the statement issued by the police, he refused. The Vermont State Police were called in to remove Lyles from the building.
When the police arrived, they asked Lyles to leave. According to the police, Lyles "ignored the Troopers." When they attempted to arrest Lyles for unlawful trespassing, the police report that 10-12 other individuals surrounded the officers.
Police are saying that Joshua Bosworth and David Johnson, both members of the Hornet's team, threatened to harm them physically if they attempted to arrest Lyles. At one point police state that Bosworth attempted to grab something on Trooper Steve McGranaghan's belt.
Lyles evaded arrest and fled the building. He was not pursued because police did not want to escalate the situation.
When Lyles, Bosworth, and Johnson turned themselves in to police on March 14, Lyles told McGranaghan he had video of the incident on his cell phone. McGranaghan asked to download the video, but Lyles refused, and started to push buttons, stating he was going to erase the video.
McGranaghan took the phone from Lyles, and charged him with obstruction of justice.
Lyles was in court on Monday to face the obstruction of justice charges. The judge decided that prosecutors did not have enough evidence, and the charges were dropped.
Lyles is still facing charges of trespassing, disorderly conduct, and resisting arrest. Bosworth is charged with hindering an arrest and disorderly conduct. Johnson is charged with disorderly conduct.
The three Lyndon State College basketball players are scheduled to be arraigned on May 5 in Caledonia Superior Court.
Below is a video from the incident in which Lyles was removed from the team in January: