NEWPORT — Pianist Michael Arnowitt will return to Vermont with his ImproVisions Jazz Quintet, featuring the outstanding New York City musicians Dave Smith on trumpet and Rick Rosato on bass, joined by Vermont favorites Dan Silverman on trombone and Caleb Bronz on drums.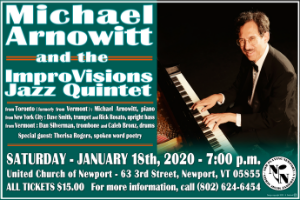 The concert will take place Saturday, January 18, at 7 p.m. at the United Church of Newport.
Michael Arnowitt will perform a colorful and diverse program of jazz past and present.
Music on the concert includes his creative version of the jazz standard There Will Never Be Another You, and his interesting blending of Jobim's Brazilian jazz song How Insensitive, with Chopin's famous Prelude in E minor which inspired Jobim's song.
Arnowitt's wide-ranging musical interests can be seen in other offerings on the program, from selections from his Jazz Suite from West Side Story based on the Leonard Bernstein musical, to the music of Stravinsky's ballets Petrushka and The Rite of Spring, Joni Mitchell's 1970's Edith and the Kingpin and jazz-influenced by Bulgarian and Syrian music.
For the music of today, the quintet will perform a song from a recent Dave Holland recording and Michael Arnowitt's original jazz compositions Pirouette, Migratory Mood, and Bulgarian Hoedown from his 2018 CD "Sweet Spontaneous" which he recorded with Dave Smith, Rick Rosato, and a dozen other stellar New York City musicians.
A special feature of the concert will be spoken word artist Therisa Rogers who will join the quintet to perform poems of Langston Hughes for a classic combination of poetry and jazz.
Michael Arnowitt's upcoming activities include an 8 concert tour of China in October 2020 with the guitarist Steve Blair where the duo will perform in Beijing and other Chinese cities.
The Washington Post said of a concert Michael Arnowitt performed at the National Gallery of Art, "he played with an exquisite sense of touch, color and musical imagination."
The concert is presented under the Now Playing Newport banner.
Tickets are $15, general admission.
For more information, email koloman@pacbell.net or call 624-6454.