NEWPORT — The MAC Center for the Arts is getting ready to host an opening reception celebrating the extraordinary work of renowned artist, Victoria Mathiesen.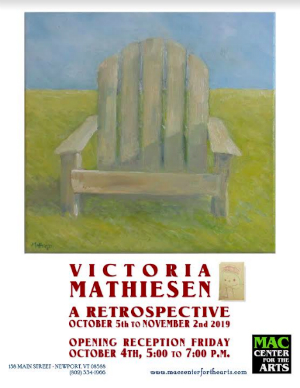 The event will take place October 4, from 5:00 -7:00 p.m. in the Downstairs Connection.
"Notably, a retrospective looks back, and at a certain age looking back seems to be more a part of life than looking forward though that is not exactly true if you are a painter," Mathiesen said.
Mathiesen works in both oil and watercolor, switching between both as need dictates.
Architecture, particularly that of her first home in the UK, has always provided a rich source of beautiful structures and an insight into the artist's past.
"The idea that I can recreate on paper aspects of a thousand-year-old cathedral or a five-hundred-year-old cob cottage is simply astounding to me, and something I treasure deeply," Mathiesen said.
This is her first exhibition at the MAC Center for the Arts since joining after moving permanently to Vermont many years ago.
"Someone remarked somewhere that all you had to do was hang a camera out the window and you had a beautiful picture," Mathiesen sais. "I can't remember who said it, but it is true, in all seasons but one. Fortunately, mud season is relatively short. It is also untrue of myself since for me photography is a means to an end, and not an end in itself, something I am constantly reminded of when I see the beautiful work of photographers. Painting, however, is the end in itself. Living here in this lovely environment provides a different way of seeing the world and one which I attempt to convey in what I do."
This is event is free and open to the public. The Exhibit runs thru November 2, 2019.
For more information, visit www.maccenterforthearts.com, or call 802-334-1966.