ISLAND POND — Island Pond will be hosting its Independence Day Celebration July 5 – 7, in beautiful downtown Island Pond.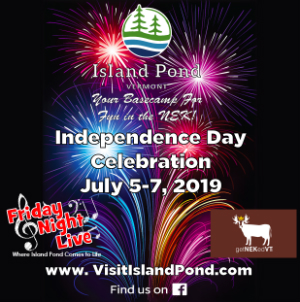 The weekend kicks off on Friday, July 5, with Friday Night Live featuring award-winning artist Dave Keller at 6:00 p.m. followed by Kat's Rock n Kountry at 8:15 p.m.
The committee is excited to be welcoming Catamount Arts mobile stage to the park for this week's concert. Organizers say the Catamount stage will provide a new audio and visual experience to Friday Night Live with beautiful Island Pond Lake as the backdrop.
Saturday morning July 6, starts off with their annual Independence Day Parade.
In addition to it being the largest float line-up ever, it'll be featuring a 50-piece marching band from just north of the border.
The American Legion Brighton Post #80 will be serving up a chicken barbecue luncheon starting at noon.
Be sure and buy your duck for the annual rubber duck race under the Essex House starting at 1:00 p.m.
A $500 prize goes to the winner and proceeds help cover part of the cost of the fireworks display.
The 5th Annual Scavenger Hunt starts at The Hearth & Home Country Store starting at 1:30 p.m.
This event draws dozens of teams to pick up a sheet full of clues and head off around town seeking the answers to the wacky questions it contains.
This event is designed for locals and visitors alike so come join in the fun.
Focus moves back to the Catamount Stage in Lakeside Park at 6:00 p.m. as Mirage takes the stage and rocks us into the NEK's best fireworks show at around 9:30 p.m.
The VFW Post #2309 will get Sunday started with their hearty Public Breakfast.
At 10:00 a.m in Lakeside Park, the Green Mountain Bible Church will hold a Community Worship Service.
Then at noon in Lakeside Park, an annual favorite, the Cardboard Boat Race will take place.
Once your boat has sunk, head on over to the Human Foosball Tournament starting at 1:00 p.m. near the basketball court.
The weekend ends on a more mellow note with a Wine Tasting at The Hearth & Home Country Store featuring six specially selected wines to enjoy.
The celebration is a joint venture of the Island Pond Renewal Committee, Island Pond Chamber of Commerce, Brighton Community Forum, Brighton Recreation, Town of Brighton and for the first time Catamount Arts.
Detailed event information can be found at www.VisitIslandPond.com.
Friday Night Live is proud to be featured as one of the stops on the Tuned In NEKed Music Tour. Check out the details at www.getNEKedVT.com and post your photos from the event using the #getNEKedVT.
If you have questions please contact Mike Strait at The Hearth & Home Country Store (802) 723-0470 or Jeanne Gervais at Gervais Ace Hardware (802) 723-6138.