DERBY LINE — Borderline Players is getting ready to present an original comedy by border humorist Ross Murray, All Together Now. The show promises to be a love letter to the Haskell Free Library, life on the line and a resilient local myth.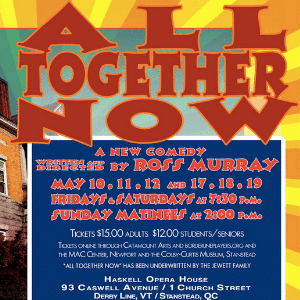 Performances are set for May 10-12 and May 17-19.
It's Labor Day, 1973. In Holland, Vermont, a rock festival is set to begin while, at the Haskell Free Library, rumors begin to fly that the former Fab Four will be meeting there.
But when a mysterious stranger and confused American tourists turn things upside down at the world's only international library, soon no one knows whether they're coming or going.
The comedy mixes local characters and history – including the infamous Mac's Party at Mead Hill, and whimsical fiction in a comedy that doesn't explain the myth of how the Beatles didn't come to the Haskell so much as add new layers of possibilities.
"I wanted to create a play that would appeal to local audiences by drawing on actual historical events," says writer/director Murray. "Other than hearsay, there's no actual record of this Beatles meeting ever being planned, so it leaves the door wide open to create my own version and mix some fictional characters with the historical ones. No one knows the truth, so why not make up my own."
In fact, the subtitle of the play is "A Possibly True Story of a Thing That Almost Happened."
In keeping with the theme of the play, the cast features players from both sides of the border, with Leanne Harple of Glover, Sue Kuzma of Derby Center, Mike Desjardins of Newport, Eric Alexandre of Georgeville, Que., John Young of Newport, Jessi Sackett of Newport, and making their local stage debut Benjamin Tabah of Lennoxville, Que., Crystal Hall of Newport, and Adam Spirk of Stanstead, Que.
Having appeared in a number of QNEK productions and last season's Fuddy Meers, Ross Murray is directing his original script.
A resident of Stanstead, Quebec, Murray writes a weekly humor column for The Sherbrooke Record and has contributed to CBC Radio and McSweeney's Internet Tendency among other publications.
All Together Now is his first script.
Show times are Friday and Saturday, May 10 and 11 at 7:30 p.m., Sunday, May 12 at 2:00 p.m., Friday and Saturday, May 17 and 18 at 7:30 p.m. and Sunday, May 19 at 2:00 p.m.
Tickets are $15 adults, $12 seniors and students and are available now online through https://borderlineplayers.org or Catamount Arts.
Tickets are also available at the MAC Center, in Newport, and the Colby-Curtis Museum, in Stanstead.
For more information, contact [email protected].