NEWPORT — The MAC Center for the Arts is getting ready to present "A common Thread – Stitches and Stories from Fiber Artists Near and Far."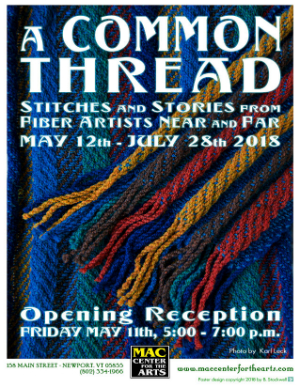 The opening reception will be this Friday, May 11, from 5-7 p.m. in the lower gallery.
The event is free and open to the public.
The exclusive showcase of fiber arts will be a cornucopia of visual delights, demonstrating a wide range of accomplishment and skill.
The exhibition includes works in weaving, felting, surface design, knitting, art quilts and art to wear, and will be on display from May 11 – July 28.
Some of the remarkable artists that will have work on display include Donna Jean Safford, Andrea Strobach, Bonnie Nash, Carolyn Ferrara, Pat Lipinski, Pixie Durand, Sharon Diner, Michelle Marsh, Kelly Doyle, Pippa Drew as well as artists from Northeast Kingdom Artisans Guild.
This contemporary fiber show is full of examples that blur the lines between fine art and fine craft, updating or innovating traditional practices and materials or by incorporating other disciplines into fiber.
For more information, please stop in during regular hours at the MAC, or visit their website at www.maccenterforthearts.com.