DERBY LINE — Borderline Players, a new theater company registered in Vermont and Quebec, will present Fuddy Meers at the Haskell Opera House stage for four performances on May 11, 12 and 13.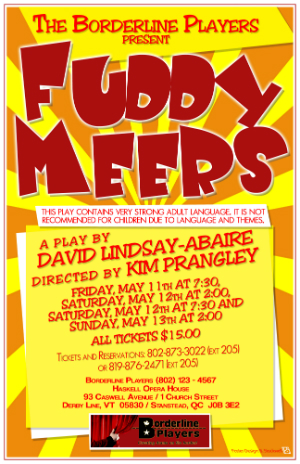 Written by American playwright David Lindsay-Abaire, Fuddy Meers tells the story of an amnesiac, Claire, who starts each morning with no memory, her husband and teenage son having to fill her in daily about her life.
When she is kidnapped, Claire – and the audience – must piece together the ensuing mayhem.
The original Broadway production was described by The New York Times as a "dark, sweet and thoroughly engaging comedy."
Performance times are Friday, May 11 at 7:30 p.m., Saturday, May 12 at 2 and 7:30 p.m. and Sunday, May 13 at 2:00 p.m.
Tickets are only $15 and available by calling the Haskell Opera House box office at 819-876-2471, ext. 205 or 819-873-3022, ext. 205.
You can also grab tickets at: haskellopera.com/event/fuddy-meers, through Catamount Arts, or at the door.
Please note that this play contains adult language and themes and is not recommended for young children.
The Borderline Players' production of Fuddy Meers is directed by Kim Prangley, a veteran of QNEK productions during the company's 25-year run as the Haskell as the resident theater company, a tradition that continues in 2018 with the debut of the new community-based company.
Prangley also takes on the role of Claire, accompanied by local actors from both sides of the border including Calvin Longe, Ross Murray, Chris Planetta, Mark Rumery, Pamela Frohn and Susan Neumann.
Set design is by Bradleigh Stockwell.