DERBY LINE — Work on the Caswell Avenue bridge connecting Derby Line and Holland over Interstate 91 is set to start April 2, and the state is warning motorists to expect delays.
Construction is scheduled to last until October. The bridge will remain closed during this time.
Traffic using Caswell Avenue to cross the Interstate will be directed down the I-91 on-ramps to a temporary traffic signal.
The signal will periodically stop north and southbound traffic on I-91 to allow cross traffic from Caswell Avenue to proceed.
The Vermont Agency of Transportation says during construction, left turns from I-91 entering the on-ramp toward Derby Line will not be allowed. Northbound I-91 traffic traveling to Derby Line will need to use exit 28 and follow detour signs along US Route 5.
Likewise, southbound traffic along I-91 traveling from Canada to Holland will also be detoured to exit 28 and I-91 north.
Uniformed traffic officers will be on hand to help motorists negotiate the detours during the first few days of construction.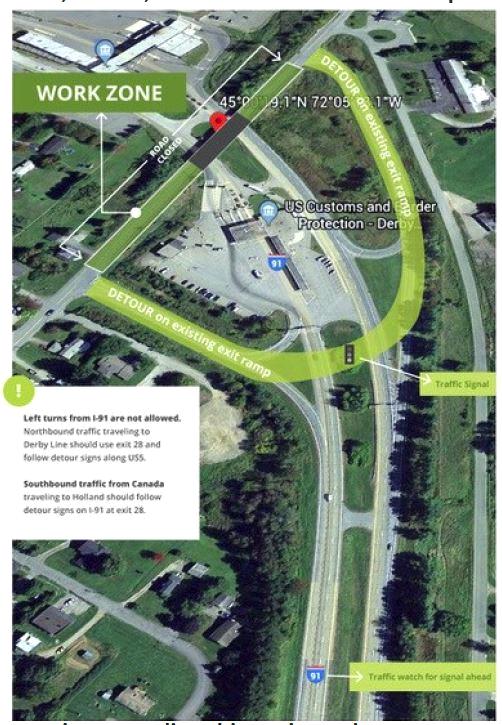 The Caswell Avenue bridge project will replace the bearings, structural steel, deck, pavement, and railing on the existing bridge.
One of the supporting piers will be removed and the cap beams on the remaining three piers will be rebuilt. The existing abutments will be retained.
The current bridge was constructed in 1962.
The new bridge will be a paved concrete deck supported by un-painted steel girders. There will be two travel lanes and two wide shoulders for pedestrian and bicycle use.
The project is expected to cost over $5 million to complete.
Are you on Instagram? Cool. So are we. CLICK HERE to follow us for a behind the scenes look at Newport Dispatch.
.