NEWPORT — On Saturday, December 2, the Memphremagog Arts Collaborative will be celebrating their 10th anniversary.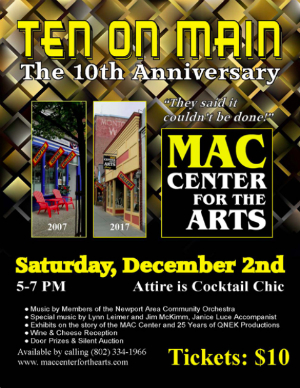 The event, titled Ten On Main, will take place from 5 to 7 p.m. Music will be provided by cellist Janice and Thurmond Knight, as well as Paula Graveline and Linda Schneck.
This elegant and historic ceremony will highlight the past ten years from concept to fruition. An exhibit in the downstairs gallery will chronicle the journey and will be on display in concert with the QNEK Costume Exhibit commemorating the theatre company's 25th anniversary and final season.
The vision for the collaborative started with Jim McKimm. Soon to be retired organist at St Mark's Episcopal Church, McKimm is a man of many talents. His quest to establish an arts organization in the Northeast Kingdom started in 2007 with GOT ART hosted at the Hebard Building.
The original charter group of trailblazers also included Ann Volatile, Betsy Sylvester, Tim Daley, Lynn Leimer, and Susan-Lynn Johns.
The initial ribbon cutting ceremony with Governor Jim Douglas and his wife was held November 17, 2007, along with a plethora of dignitaries and guests. The MAC has moved three times since conception and has settled into their present 2,000 square foot "home" at 158 Main Street next to Dusit Thai.
The MAC is the only non-profit art gallery with no employees and is totally run by volunteers. Their commitment, dedication, and talents are what keeps the Vermont arts economy thriving on rural Main Street for the past decade.
The MAC has seen many transitions over the years, as well as establishing signature events like Art in Bloom and scholarships for graduating seniors.
The present Board of Directors includes President Isobel Marks, Vice President Lynn Leimer-Flint, Secretary Janice Luce, Treasurer Jennifer Hopkins, and directors Patty Oliver-Smith, Manfred Rieder and Dr. Bill Peck.
So come on out for this truly extraordinary gala, wine and cheese, beautiful music and stellar silent auction.
Tickets are required and limited. For tickets and more information, please visit MAC at 158 Main Street, Newport, or call 802-334-1966, or visit the website www.maccenterforthearts.com