NEWPORT — The seventh annual Art in Bloom will open on August 4, at the MAC Center for the Arts, located at 158 Main Street, in Newport. The reception will start at 5 p.m.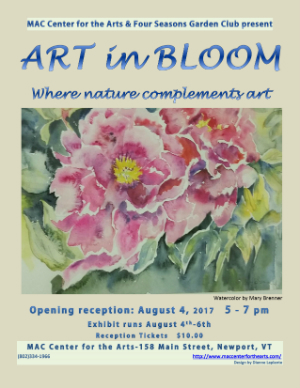 Working in concert are the members of the Four Seasons Garden Club and MAC Center for the Arts exquisitely tailoring the annual fundraiser where nature meets art.
August 4 is a ticketed event to benefit both organizations.
This year's fabulous door prizes are certainly worth the price of admission.
A summertime favorite, Art In Bloom boasts over 20 floral arrangements that glean their inspiration from the magnificent artwork currently on display in the MAC Gallery.
Interpretation and unique creativity provide this festival of insouciant charm and patrons can enjoy these displays through Saturday, August 6, open to the public.
Come gaze upon the distinctive presentations on both levels of the gallery with the Art in Bloom in the main gallery, August 4-6, and the summer exhibition, Preserving the Beauty of Our Waters in the lower gallery, thru September 6.
For tickets or more information, please call 802-334-1966, or visit www.maccenterforthearts.com and/or fourseasonsgardenclub.org