NEWPORT — The MAC Center for the Arts is getting ready to present its latest exhibition, "Plein Air Northeast Kingdom."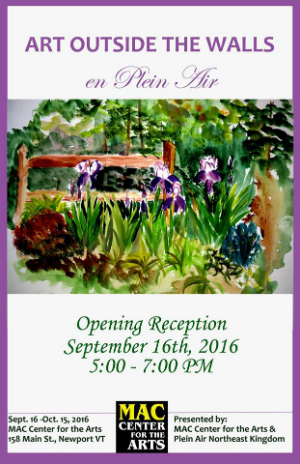 The opening reception is Friday, September 16, from 5-7 p.m. at the MAC Center, 158 Main Street, Newport.
The Plein Air Exhibit consists of work by landscape artists who have painted all over the Northeast Kingdom this summer.
The art work is in direct response to the beauty the painters find in nature. They use a variety of media, from oils, through watercolors and pastels.
Plein Air painting was developed in France in the mid-19th Century and is becoming increasingly popular. Presently, there is a nationwide following of both Plein Artists and Collectors.
The juried artwork produced at these paint-outs will be on exhibition at MAC Center for the Arts, in the downstairs Gallery, September 16th, 2016 – October 15, 2016. 
"There is a joy about painting outdoors and this is a chance for people to see the result of works produced by professional artists," event organizer Donna Walsh says. "At Plein Air Northeast Kingdom we paint tomorrow's history today, onsite."
The event is FREE and open to all. Many of the pieces are for sale.
Collectors and art enthusiasts will not want to miss this unique and unprecedented event.
For more information, please call 802-334-1966 or visit www.maccenterforthearts.com.
September 16, 5-7 Reception, 158 Main Street Newport.
Exhibition run: September 16-October 15