NEWPORT — Starting this Friday, a local artist will be having a one woman show at the MAC Center for the Arts in Newport. On the same night, the MAC is also hosting a Holiday Reception and displaying new works. The event, which takes place on November 20, starts at 5 p.m. and runs until 7 p.m.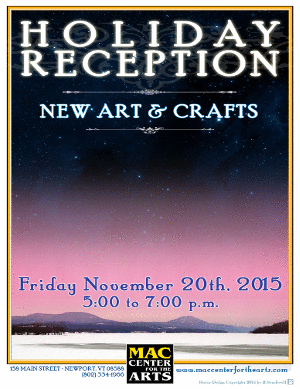 Lisa Eshleman Foster, who moved to Newport in 2009, will be displaying over 200 original paintings in the show titled, "Ancestors…Going Way Back."
This brightly colored installation is hung salon style in the lower gallery at the MAC. Her work has been shown in private collections from Germany, Italy, New York, Pennsylvania, California, Colorado and Vermont. She was born in Lancaster, Pennsylvania, and holds BFA from Kutztown State College.
Foster has a personal history of creativity that goes way back as well. She has worked creatively her whole life, and since moving to Newport has been involved with QNEK, doing theatre work, as well as painting the sets. The painting of Manhattan on the back wall at the Haskell Opera House is hers.
"I work in fun and happiness," Foster says. "I look at people, I use what I see."
Foster emphasizes that to truly understand what she is doing, it is important to come to the gallery and see all the work, with some of her work telling a family story.
"I started with one family, the LaFlammes, and imagined who they married and procreated with," Foster says.  "The show reads around the room, as the LaFlammes continue their families. The genetic traits can be seen if you look closely. And because it does have to do with ancestors, I dedicated it to my father who passed away in May. He was the source of my creativity. He was a poet, artist, writer and wonderfully funny guy. I am including the crib that he painted for my kids to show everyone that he painted with many colors also. Two paintings in the show are called 'Daddy's Ladders.' They have colored rungs because my dad always painted the steps and rungs of ladders different colors.  I was born on his birthday. We were close."
The public is even invited to participate in a group activity during the show, and if they participate their name will be entered into a drawing, both figuratively and physically. They will be asked to trace their hands on canvas to be used eventually in another installation. The winner will receive a painting from Ms. Foster.
"This extraordinary installation by Lisa Eshleman Foster is sometimes theatrical, often amusing and wry, but mysteriously moving and very personal," Lynn Leimer, of QNEK said. "Not to be missed," she adds.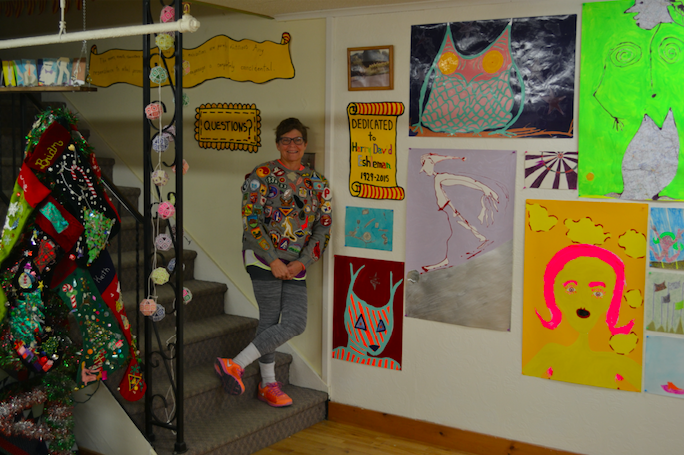 In the Main Gallery the annual Holiday Reception will be displaying new works.
Visitors upstairs can browse the plethora of unique hand crafted gifts by artisans working in many different mediums.
FULL BREAKDOWN OF FRIDAY'S SHOW:
Main Gallery: November 20, 5-7 p.m. MAC Center for the Arts Holiday Opening and Vernissage
Lower Gallery: Lisa Eshleman Foster – one woman show – Ancesters – Going Way Back
Free admission, all are welcome. For more information, 802-334-1966 or www.maccenterforthearts.com.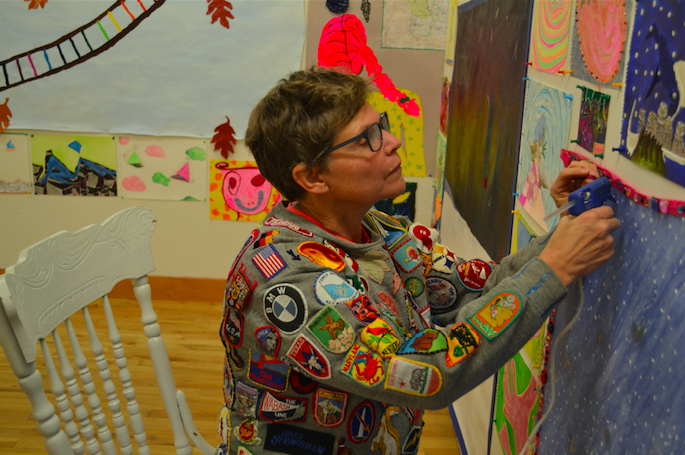 Are you on Instagram? Cool. So are we. CLICK HERE to follow us for a behind the scenes look at Newport Dispatch.
.