LYNDONVILLE — Lyndon State College unveiled the third and final phase of Veterans Park, a "Wall of Honor" plaque displaying the names of LSC faculty, staff, and students who have served in the armed forces. It was part of the annual Veterans Day ceremonies held on the Northeast Kingdom campus.
Now officially complete, the Veterans Park is comprised of the lettering on the wall overlooking the pond, a memorial bench with the seals from all branches of our military, and the Wall of Honor. Every year on Veterans Day, new names will be added to the wall as the list of recognized LSC service men and women continues to grow.
Today's event, put on by the Lyndon State College Veterans Association, paid tribute to the 120 current and former faculty, staff, and student veterans. Current LSC Veterans Association president Heather Morris recited the names from Lyndon's new Wall of Honor.
"Throughout Lyndon's 100 plus year history, faculty, staff and students, both men and women, have faithfully served in America's Armed Forces," said Thom Anderson, LSC Veterans Association advisor and Associate Academic Dean. "These sons and daughters of Lyndon have demonstrated their willingness to put country before self, patriots who serve for the greater good and who don't seek glory or recognition or personal gain."
Lyndon State College was recently given the 2016 Military Friendly School Designation from Victory Media.
Currently, Lyndon has 45 veterans enrolled at the college, 38 of whom receive some sort of tuition benefit. There are also 14 students who are dependents of veterans who are receiving tuition benefits so that they may attain a college degree.
Lyndon is also a member of the Yellow Ribbon Program, which makes additional funds and scholarships available for veterans beyond the GI Bill entitlement. Military spouses also receive tuition benefits at Lyndon State College, and out-of-state veterans are eligible for in-state tuition rates.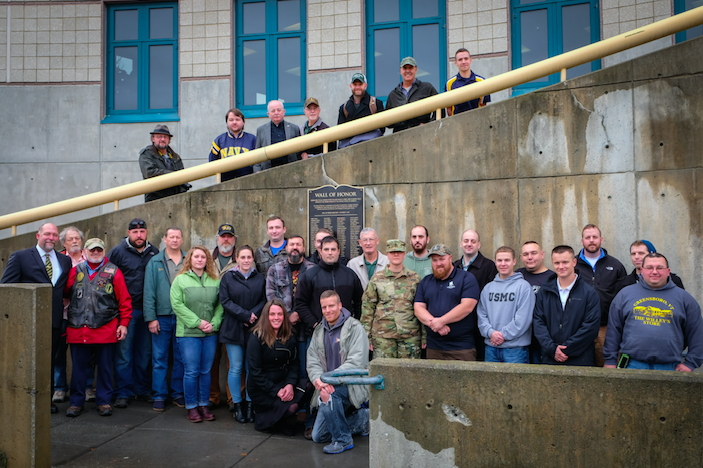 Are you on Instagram? Cool. So are we. CLICK HERE to follow us for a behind the scenes look at Newport Dispatch.
.