NEWPORT — With the first ever Newport Jazz Festival just around the corner, planning for the event is in full gear. Organizers are seeking help from the community and welcoming volunteers, starting with an organizational meeting this Saturday.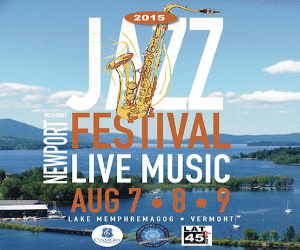 Anyone wanting to get involved and help out with the upcoming Newport Vermont Jazz Festival is invited to a meeting on July 18, from 10 a.m. to 11:30 a.m. The meeting will take place in the Conference Room upstairs from Newport Natural on Main Street.
Organizers are looking to get people involved in the following areas:
1. Staffing the "Green Room" – offering refreshments for the musicians.
2. Selling Tickets for the Evening Performances in the Gateway Center.
3. Assisting the Stage Managers.
4. Ambassadors – directing people, answering questions, helping out of town tourists.
5. Musical Equipment movers – helping to speed up the transition time between bands.
The group is also inviting anyone to offer their own special skills that can help assist in the event, so come on out Saturday find out how you can get involved.
The Newport Jazz Festival will take place on August 7, 8, and 9th in downtown Newport.
For more information visit the event's Facebook page at:
Facebook.com/NewportVermontJazzFestival
Or the website at:
Are you on Instagram? Cool. So are we. CLICK HERE to follow us for a behind the scenes look at Newport Dispatch.
.