TROY — In a recent show of respect and admiration, Community National Bank Vice President of Branch Administration Cindy LaGue presented a 25 by 40 foot U.S. Flag to Troy Fire Department Chief and Northeast International Mutual Aid (NEIMA) member Bobby Jacobs.
The flag is a gift from the bank to NEIMA to replace the current flag that has been used for many years at various ceremonial events and local firefighters' funeral services.
NEIMA is a nonprofit association made up of numerous fire departments across two countries.
Member departments include Albany, Ayer's Cliff, Barton, Brighton, Charleston, Craftsbury, Derby Line, Glover, Irasburg, Jay, Lowell, Mansonville, Newark, Newport, Newport Center, North Troy, Orleans, Stanstead, Stanstead Township, Troy and Westmore.
The organization permits member departments to work together when extra resources are needed during an emergency, at no extra cost to the requesting department.
NEIMA also serves as a voice for its member departments when conversing with state officials on issues of interest to all of the members.
Each year, NEIMA hosts a regional fire school open to member and nonmember departments with course offerings to beginners and experienced firefighters to ensure safe and effective techniques are being used.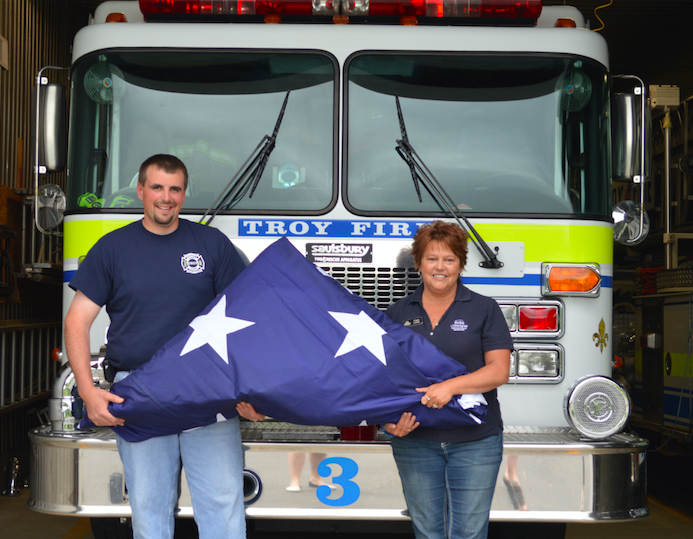 Most of the firefighters serving our communities are volunteers.
"Community National Bank thanks all departments and their members for their dedicated service," a statement issued by the bank reads. "We appreciate all of your efforts."
Are you on Instagram? Cool. So are we. CLICK HERE to follow us for a behind the scenes look at Newport Dispatch.
.