NEWPORT — The Memhremagog Watershed Association (MWA) has scheduled fun and educational events for the watershed community and visitors through the spring and summer of 2015. Most of these events are free and open to the public, however, some do require advanced registration because of participation limitations.
MWAs first major event is the Annual Meeting, June 17 at 7:00 p.m. in room 250 of the Hebard Building, in Newport. The keynote speaker for this event is Eric Hanson with a presentation entitled "Let's Get Loony: The nnatural and unnatural history of the common Loon." Eric, who has been the biologist for The Vermont Loon Conservation Project since 1998, will explore Loon history from their territorial takeover and sibling rivalry, to mercury laziness and satellite tracking.
For the third consecutive year MWA will sponsor a lake paddle to explore the creek and wetlands of the Eagle Point Wildlife refuge. This year's paddle will be on June 20 from 9:00 a.m. to Noon. This event will be led by Paul Hamelin of Vermont Fish and Wildlife. The tour of the wetlands has been applauded by past participants as an opportunity to see and understand wetlands in a new way. Participation is limited, so call 802-334-5819 to reserve a spot. Bring your kayak or canoe to participate.
An opportunity to learn the importance of shoreline buffers and to take home some blueberry plants for your shoreline will take place on June 27 at 423 Miller Way, in Newport Center. This workshop will feature discussions by Perry Thomas, Program Manager of Vermont Watershed Management Division and Judy Davis of the Federation of Vermont Lakes and Ponds. They will explain how a natural buffer moderates the impact of heavy rain, shades shorelines to reduce water temperature, and produces matter essential to shallow-water ecology.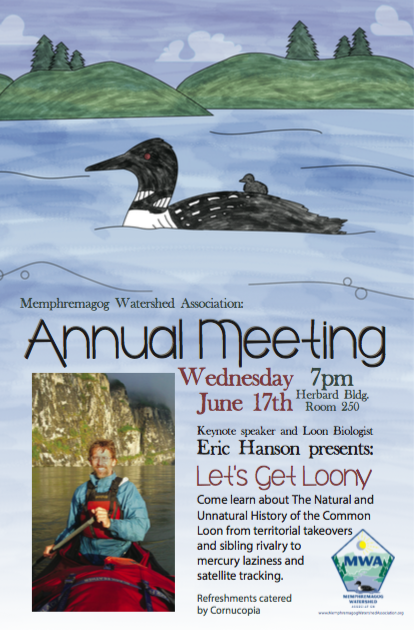 This is the second of MWA's Blueberries for Blue Waters workshops and is open to all who live or have property on or near water. Participants will be able to take home a total of four mature Blueberry bushes for a much reduced price of $30.00, and a special price for new members of $15.00. Register by calling 802-334-5819.
Additionally this month MWA is sponsoring several significant workshops and training sessions. The first on June 23 is a workshop on the identification of Cyanobacteria (Blue-green algae). Participants will learn how to identify and report an algae bloom and ask questions of experts on the consequences of these blooms. This workshop is open to the public on June 23 at 7:00 p.m., room 250 of the Hebard Building, in Newport.
Help is always needed to identify invasive species in our watershed waters. Those who would like to participate in this endeavor are encouraged to attend a Vermont Invasive Patroller (VIP) training on June 26 10:00 a.m. to Noon. This will be an on-water introduction and refresher training. Please register by telephoning 802-409-6129 or online at: watershedmanagement.vt.gov/lakes/htm/ans/p_VIP.htm.
MWA hopes once trained the participants will volunteer to be VIPs for our watershed. Click below for full schedule:
CLICK HERE
Are you on Instagram? Cool. So are we. CLICK HERE to follow us for a behind the scenes look at Newport Dispatch.
.