NEWPORT — Saigelyn Green, a senior at NCUHS from Derby, is making a name for herself as a young composer. In the last three years she has had five of her compositions performed by professional musicians around the state.
On Saturday, Green was in Burlington as her latest piece, Realm of Reflection, was performed by the Burlington Chamber Orchestra (BCO).
The performance took place at the St. Michael's McCarthy Arts Center. The show was part of the BCO's annual Celebration of Youth concert. The show featured guest conductor Yutaka Kono, and Young Artist Competition winner David Bayard.
Green was recently named as the BCO's Student Composer.
Green said hearing the song played by a live orchestra was much better than hearing it on the computer, and seeing the enjoyment it gave the performers and the audience was indescribable. She received a standing ovation after the song was performed.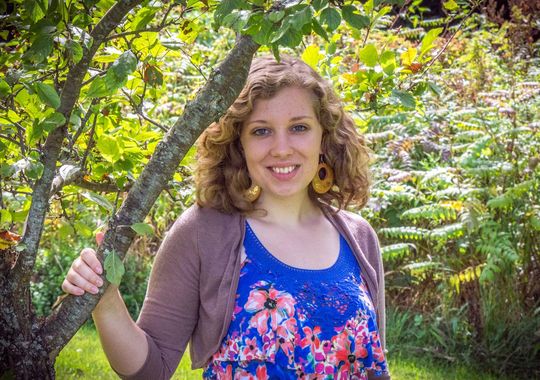 "With having only written for small ensembles like string quartets and brass quintets, having a piece with this many instrumental parts was a great challenge," Green said. "This is the longest piece I've ever written. It took a lot of work, but I had a lot of help along the way, and I am very grateful to have had this amazing opportunity, especially at such a young age."
Although Green is s singer and saxophone player, her greatest musical love is composing. It started at NCUHS when she began a composition class as a sophomore and submitted her work to the Vermont Music-Comp program each semester.
Green is also a vocalist in a rock band and sings in the Northsong Choral group, led by her former music teacher Anne Hamilton. Hamilton was the teacher who got her started in composition. Even though Hamilton retired that year, she has mentored Green along the way.
"Music is a language without words, and it communicates to those who might not even have the ability to use any words, such as people with disabilities, animals, people who have been traumatized, or have diseases such as Alzheimer's disease," Green wrote in a recent essay. "It is the ultimate form of self-expression, and can restore sanity. Music creates comfort in society in that it makes the listener feel understood through the spectrum of human emotion. Babies have lullabies, children have rhymes, teenagers have expressive outlets, adults have fond memories, and the elderly truly find comfort. Music serves as a way to further the human experience and help those who have no other outlet."
Are you on Instagram? Cool. So are we. CLICK HERE to follow us for a behind the scenes look at Newport Dispatch.
.