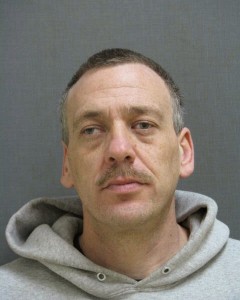 NEWPORT — Police say that U.S. Marshals took a 43-year-old man who had been hiding out in Burke into custody on Friday.
According to a statement issued by police, Mark A. Higgins was captured on Main Street in Newport at around 12:30 p.m. Police say Higgins was wanted out of Massachusetts for nine felony extraditable warrants and five misdemeanor warrants for financial exploitation of vulnerable and elderly adults.
Although at the time Higgins was not wanted by police, in August 2014, the Yarmouth Massachusetts Police Department issued the following warning to residents, especially seniors, about Higgins:
"Mark Higgins age 42 of Yarmouth has recently been soliciting tree service without proper permits and authorization in Yarmouth. Higgins has a long criminal record and is known to prey on elderly citizens and offer low cost tree service, driveway service, or any handyman type of services."
A spokesperson for the Yarmouth Police Department on Monday said that Higgins was on the run from Yarmouth police since around October for crimes relating to exploration of vulnerable and elderly victims, but that he suspects he was being sought for similar crimes in other areas.
Higgins was arrested as a fugitive and is being lodged at Northern State Correctional Facility without bail.
Are you on Instagram? Cool. So are we. CLICK HERE to follow us for a behind the scenes look at Newport Dispatch.
.