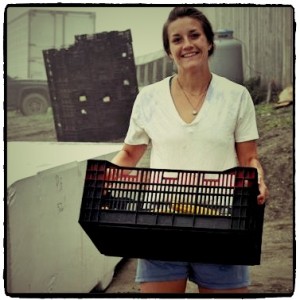 CRAFTSBURY — Sodexo, a leader in providing integrated facilities management and food service operations, recently announced the hiring of Anne Rowell of Craftsbury, as the director of its "Vermont First" local food initiative.
Rowell is a Vermont native, Middlebury College graduate and local food advocate. She will lead Sodexo's program to help grow the local food economy and to supply consumers with more locally sourced food.
Rowell comes to Sodexo from her job as program manager of the Center for an Agricultural Economy in Hardwick, where she developed partnerships with private markets, institutions, farmers, and charitable food networks. While in college, she interned for Vermont Natural Coatings and Vermont Soy, both in Hardwick, and in the Washington, D.C. office of Senator Patrick Leahy.
"I have done this work on a micro-scale, and I am excited to help tap into the more than 7,000 local farms in Vermont that have annual sales of $673 million annually," Rowell said. "With Sodexo's support, farmers who don't currently sell wholesale can make the infrastructure changes to do so. Vermont First will create jobs and expand markets."
Rowell, who graduated magna cum laude from Middlebury, serves as the secretary of the Craftsbury Village Improvement Society, and is a member of the Town Planning Commission. She is a cellist in the Porter Brook Trio, and a volunteer stage manager of the Craftsbury Players summer music festival.
Sodexo, which serves approximately 34,000 institutional and corporate meals in Vermont daily, launched its "Vermont First" initiative in September. In announcing the venture, Phil Harty, Regional VP of Campus Services for Sodexo, committed the company to an annual summit on local food economics, to the training of providers, distributors and others, and to offering technical expertise in quality control to bring more local food into the supply chain.
"We want to be the leader in driving local food procurement, and Annie's hiring is our first step in making that leadership a reality," said Harty. "Her charge is to use the passion, expertise and market power of Sodexo to grow Vermont's local food system in partnership with those who have been at this for many years."
Chuck Ross, Vermont's Secretary of Agriculture, Food & Markets, previously hailed "Vermont First" as benefiting farm sustainability, job creation, access to fresh local food, and our "agricultural literacy of understanding where our food comes from."
Are you on Instagram? Cool. So are we. CLICK HERE to follow us for a behind the scenes look at Newport Dispatch.
.