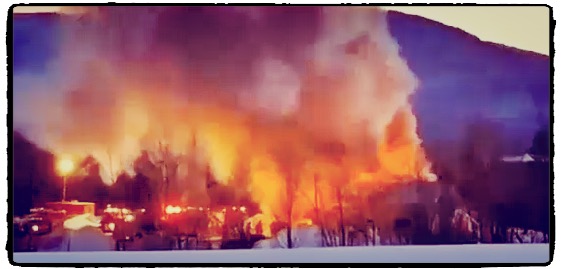 WESTFIELD — Police say one person is dead and another injured after a tragic fire broke out Friday night at the English Rose Inn in Westfield.
Montgomery Fire Department Chief Bill Baker told reporters that the woman who called in the fire reported her husband was still inside, and that he was in a wheelchair in the cellar.
According to a statement issued by police late Friday night, there was one fatality as a result of the fire. Police also say that there were no guests staying at the Inn at the time, and that the death was a result of the victim being unable to get out of the structure. The identity of the victim has not yet been released.
The other victim was transported to North Country Hospital for smoke inhalation.
The call came in at approximately 3:16 p.m. Area fire departments were dispatched to the English Rose Inn, located at 195 Route 242.
Upon arrival, the fire departments found the entire structure engulfed in flames. Route 242 west of Jay Peak Resort was temporarily closed while firefighters battled the blaze.
A request was made to the Vermont State Police Fire Investigation Unit to determine the origin and cause, but police say that the fire does not appear to be suspicious at this point.
Are you on Instagram? Cool. So are we. CLICK HERE to follow us for a behind the scenes look at Newport Dispatch.
.