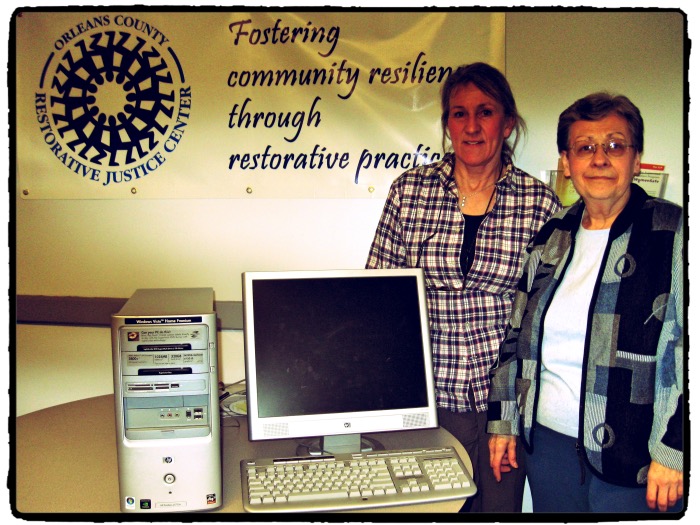 NEWPORT — They say that a little can go a long way. At the Green Mountain United Way (GMUW) office in Derby Line, Marketing Director Madeleine Roy is working hard to make sure that every little bit is distributed where it is needed most.
Through its Goods and Services Program, the GMUW recently received the donation of a slightly used computer system with a lot of life left in it. The computer was distributed to a local nonprofit, the Orleans County Restorative Justice Center (OCRJC) in Newport, for use by one of its volunteers.
"In this day, we need access to computers just to be in touch with the flow of community life and opportunities," said Barbara Morrow, Executive Director of OCRJC. "We're so fortunate to have a responsive United Way that can step in with this program to fill the gaps."
The mission of the Orleans County Restorative Justice Center is to facilitate community action to deal with conflict and crime restoratively. They train community volunteers in restorative justice and conflict resolution practice, believing that an effective, committed community is the best tool.
"This particular computer is going to work hard to connect an important volunteer with our work," Morrow said.
GMUW also donated several hygiene kits to OCRJC. These were made and donated by an individual who wanted them given specifically for homeless people. They contain such items as toothbrushes, toothpaste, shampoo, and soap.
For more information about restorative justice, you can contact Executive Director Barbara Morrow at bmorrow@kingdomjustice.org, and for information about the Green Mountain United Way, call their Derby Line office at 802-647-2148.
Are you on Instagram? Cool. So are we. CLICK HERE to follow us for a behind the scenes look at Newport Dispatch.
.