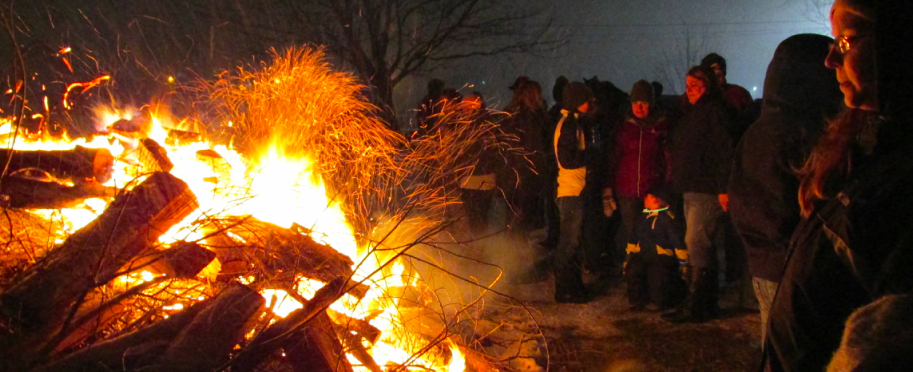 NEWPORT — Plans for Newport's Winterfest are starting to take shape, as the series kicks off this Friday and Saturday.
Businesses in the downtown area will be showcasing student designed Snowmen in their storefront windows. A Welcome Dinner and Dance will be held at the East Side Friday evening.
Gardner Park will also be a focal point for festival events. An ice maze with colored lights will find a home on the point at Gardner Park, along with a rink for free skating, a figure skating show, and free sugar on snow in the afternoon.
In the evening a 10-foot tall Bonfire will warm visitors at Gardner Park, with a fireworks show that starts at 7:00 p.m.
"This will be the frosting on the cake to a great day that includes a pizza eating contest in Gardner Park, downtown "Dinner Jazz" at the Tasting Center, a really awesome Broomball Tournament at Gardner Park, and the famous Fire and Ice Snowmobile Radar Runs," says Andy Cappello.
"We're inviting snowmobilers from all over Vermont and New Hampshire to ride-in to Newport to join us for the radar run and events," Fire and Ice organizer Ken Wells said. "We'll see some sleds reach speeds well over 130 miles per hour, which is very exciting to watch."
Pond hockey and Nordic skating will take place on the lake near The East Side Restaurant. Lago Trattoria Restaurant will provide a late afternoon BBQ for teams and the public in Gardner Park.
"We're returning Nordic skating and pond hockey to its roots, where the sports began," said Kingdom Games director Phil White. "Imagine how the NHL started, with teams playing on ponds and lakes. Our Memphremagog Pond Hockey Tournament will bring back the original excitement for the teams that will participate from all over New England and Quebec," White continued.
Full Schedule of events
Friday
6:00-10:00 Winterfest Welcome Banquet & Dance East Side Restaurant
Saturday
All Day Nordic Skating – Lake Memphremagog | Prouty Beach
All Day Ice Maze with colored lights | Gardner Park
All Day Snowman Window Art | Downtown Newport
All Day Snowmobile Ride-In | East Side Restaurant
All Day Art Gallery Exhibit | MAC Arts Center Main Street
All Day Festival Merchant Sales 10% Off | Newport Area
Morning
7:00-11:00 | Lumberjack-style Breakfast Buffet (benefit Halo) | Gateway Center
9:00 | Fire & Ice Snowmobile Registration | East Side Restaurant
10:00-4:00 | Guy Fortin Broomball Tournament | Gardner Park
10:00-4:00 | Lake Plane Rides (weather permitting /small fee) | Prouty Beach
10:00-4:00 | Memphremagog Pond Hockey Classic | East Side Restaurant
10:00 | Snowmobile Ride In & Exhibition | East Side Restaurant
11:00 am | Fire & Ice Radar Run | East Side Restaurant
Afternoon
Noon | Ice Plane Rides (Small fee) | Prouty Beach
Noon to 2:00 | Local Food Warm up | Tasting Center Main St
Noon to 2:00 | Cidery Tour Eden Ice Cider | Tasting Center
4:00 | Festival BBQ | Gardner Park
4:00 | Awards Banquet | Eastside Restaurant
4:00 |Figure Skating Show | Gardner Park
5:00 | Chuck-A-Puck Fundraiser | Gardner Park
5:30 | Pizza Eating Contest | Gardner Park
Evening
5:30-8:00 | Dinner & Jazz | CiderHousePub Tasting Ctr
6:00 | Varsity Hockey | North Country Union @ Jay
6:00 | Sugar On Snow Party – Free | Gardner Park
6:30 | Festival Bonfire | Gardner Park
7:00 | Fireworks | Gardner Park
Are you on Instagram? Cool. So are we. CLICK HERE to follow us for a behind the scenes look at Newport Dispatch.
.