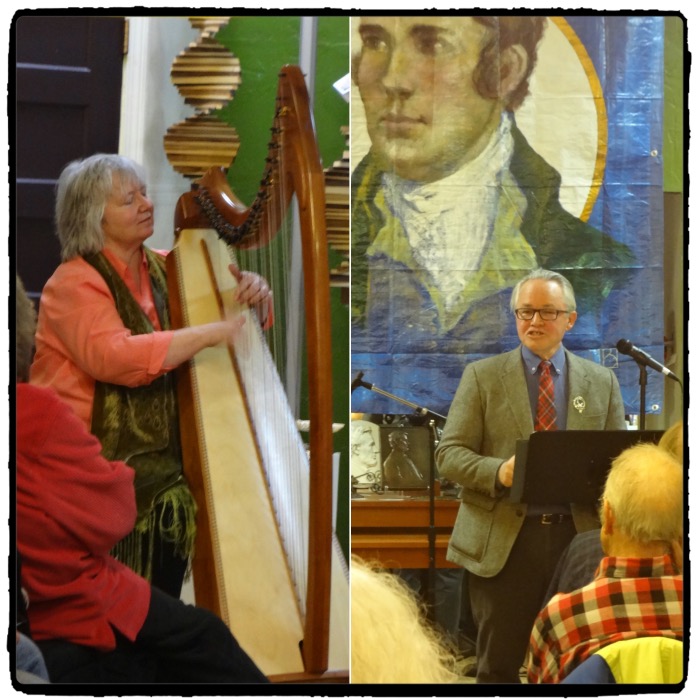 NEWPORT — On Sunday the MAC Center for the Arts held their first annual Robbie Burns Day Event to great accolades.
While the frightful weather forecast hindered some from venturing out, a tribe of brave Scots and Scot patrons came to witness some of the local talent who entertained the crowd.
Some of the acts included the wit and art of Chairman, Bradleigh Stockwell, the brogue of Brian McCrae, the lyrical musicality of Linda Schneck on harp and vocals, and the humor of MaryLiz Riddle, Douglas "MacDougall" Flint, and Lisa Foster McCrae.
Kim Prangley of Stanstead gave a short reading, and Burns songs were performed by guitarist, Ben Luce, pianist, Janice Luce, and songstress, Lynn Leimer.
The unexpected delight of the day was 94-year-old Fred Webster reciting "My Luve is Like a Red, Red Rose" to his wife Vivian. There wasn't a dry eye in the house.
The ceremony was rounded out by renowned bagpiper Beverly Davis, and the traditional ceremonial presentation of The Haggis.
The event concluded with the traditional singing of Auld Lang Syne. The Bard himself would have been proud.
Are you on Instagram? Cool. So are we. CLICK HERE to follow us for a behind the scenes look at Newport Dispatch.
.