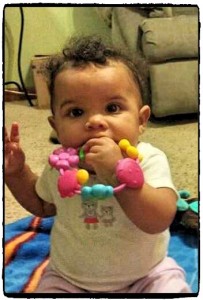 NEWPORT — Days before turning 7 months old, baby Zakeyah was on the verge of learning to crawl. She was a healthy, vibrant, beautiful baby girl from North Troy. All of a sudden, she developed a high fever and refused to eat.
Two days later she was diagnosed with a severe case of Pneumococcal Meningits and Septicaemia, both life threatening diseases.
Meningitis is an inflammation of the lining around the brain and spinal cord. Most severe cases are caused by Pneumococcal bacteria.
Pneumococcal meningitis occurs when the bacteria that have invaded the bloodstream move across to infect the "meninges," the membranes that surround and protect the brain and spinal cord. The meninges are filled with a liquid called cerebrospinal fluid (CSF), which is there to bathe the brain and cushion it against physical damage. Bacteria can multiply freely in CSF, and there they release poisons, causing inflammation and swelling in the meninges and the brain tissue itself.
After the diagnosis Zakeyah was transferred to the Pediatric Intensive Care Unit. She was in an induced coma. Those who love her most have been unable to hold her as she starts her road to recovery. The family has been told that hospitalization could be for an extended period of time.
Her mother and father, Kassandra and Tyshon Ferguson, have been by her side the whole time, while the grandparents help take care of her twin sister, and four-year-old brother.
Tests are showing that her brain has been injured, and as of Thursday, Zakeyah is in critical but stable condition at Fletcher Allen Hospital. The family was informed that she is having nearly constant subclinical seizures due to neurological damage to her brain.
Doctors will be trying another medication to see if they can get this under control. Until then, Zakeyah remains on a ventilator with a feeding tube.
The family is hopeful doctors will be able to lower the dose of medicine so she can start to wake up.
After starting a GoFundMe page to help raise money for the family, the community has rallied behind the cause, raising over $3,800 in just one day. An outpouring of support has been shown to this local family while they face this struggle.
If you are able, please visit the GoFundMe page created for baby Zakeyah, where you can donate money to help the family. You can also find there updates as to her condition.
Are you on Instagram? Cool. So are we. CLICK HERE to follow us for a behind the scenes look at Newport Dispatch.
.