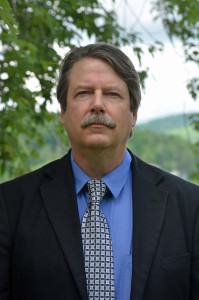 Dear Members of the Community:
My name is James Craig Lillicrap, and I am one of the three remaining candidates for Orleans County State's Attorney. I was born here, went to Sacred Heart, U.V.M. and Vermont Law School. My mother ran the Visiting Nurse Association and Hospice for over 45 years, and my wife works for them now. My father ran a trucking business. My grandparents Bill and Marguerite Lillicrap, and Ernest and Edna Nason, were well known locally.
I am the only one of the remaining candidates that can say I live here, own property here, pay taxes here, vote here, and send my children to school here. I am the only one who can say, I not only promise to support the community, but I have done so for decades. I am the only one of the remaining candidates that can say that even my campaign materials have been exclusively purchased locally from the Memphremagog Press. Support the candidate that supports you.
I, also am the only remaining candidate whose work has been, and is an open book. I have over 400 articles in local papers concerning my work. Each candidate is asking that you commit to pay them about $380,000.00 over the next four years. I ask you, the voters, why you should hire someone whose work you have not seen? Would you purchase a tract of land you never looked at, or a car you had never driven?
Jennifer has less than three years as an attorney, Ben a little over 7. I have almost 10 times Jennifer's experience, and over 3 times Ben's experience. Over almost 25 years, I have handled over 35,000 proceedings. I have a track record of putting serious repeat offenders behind bars. Many of these have been put in prison for life, and will not harm anyone again.
I have worked with local law enforcement, and they respect my work. I, also, have the endorsement of Senator Bobby Starr who has supported this community for the 30 years I have known him. I have the endorsement of Carl B. Davis, Director of Orleans County Probation and Parole. He has over a decade of experience keeping Orleans County safe.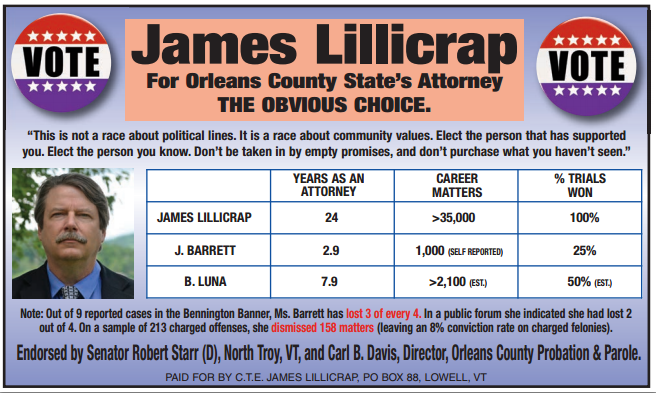 I have letters attesting to my qualities as a prosecutor from Lieutenant Kirk Cooper (V.S.P. Derby former Commander), Detective Jennifer Harlow, and although not an endorsement, a letter from Keith Flynn. I, also, have letters from actual victims I have worked with supporting my candidacy.
Patrick McGinley, brother of Peggy Moran, and a supervising prosecutor for 30 years wrote:
"At all times (and they were frequent) when attorney Lillicrap was contacted by my nieces and nephews, and myself, he was the consummate gentleman. At all times he treated Art and Peggy's children, as he did me, with courtesy, compassion and respect. James Lillicrap possesses those attributes and characteristics that we desire and deserve in a State's Attorney. He is dedicated, compassionate, intelligent and highly experienced. The voters of Orleans County will do well by themselves to elect him as the State's Attorney of the County in the upcoming November election. I urge you to do so."
As Orleans County State's Attorney, Keith Flynn wrote:
"One of Jim's many positive attributes is his awareness and commitment to professional ethics and his desire to seek justice and "do the right thing." I have found that this commitment transcends all that he does and is evident not only in his interactions with the lawyers he practices with but also with Courts he appears before.
Jim enjoys his interaction with victims of crimes and is empathetic and at the same time professional during those interactions. In my opinion again, those attributes speak volumes about the skills of a prosecutor and his or her dedication and commitment to the task at hand."
Ask the front line officers who has handled their cases, and who they have preferred handle their cases. I have been asked on a regular basis to take over cases from existing prosecutors. As a State's Attorney, I will have the authority to do so.
I have not lost a single jury trial. Based on nine trials I found published in the Bennington Banner, Jennifer Barrett has lost 3 out of every 4 trials she has completed. Based on a sample of 213 charged offenses, from the same source, Ms. Barrett dismissed 158 of them. Some of them were dismissed on the day of trial. It appears as though in Ms. Barrett's case that the voters should not make a purchase sight unseen.
This is not a race about political lines. It is a race about community values. Elect the person that has supported you. Elect the person you know. Don't be taken in by empty promises, and don't purchase what you haven't seen.