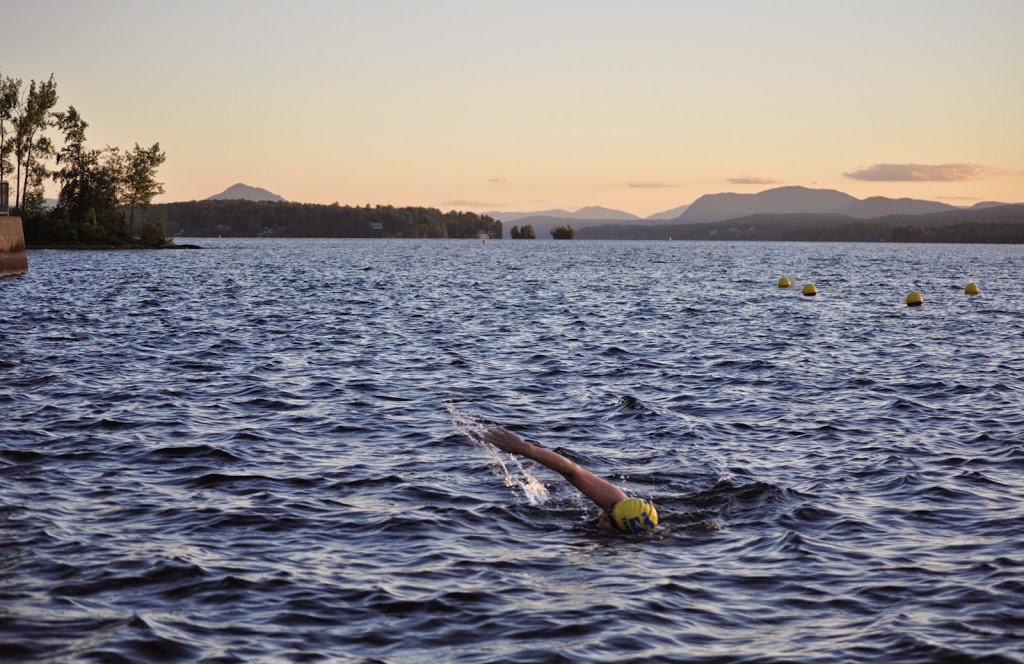 DERBY — Three marathon open water swimmers completed this year's 25 mile, international swim between Newport, Vermont and Magog, Quebec.
The swim, called "In Search of Memphre," started on Friday night, with five swimmers, but was halted by a thunderstorm that hit just an hour into the swim. It was rescheduled to Saturday night, with four swimmers at the start. Three left the ramp at The Gateway Center in Newport, at 11:02 p.m. The fourth started an hour later at 12:02 a.m.
Grace van der Byl, 36, of Solana Beach, California was the first to the finish, with a time of 11 hours and 33 minutes. She recently won the 28 mile Manhattan Island Marathon Swim. Her support crew included Margrethe Horlyck-Romanovsky of New York City and Eri Utsunomiya of Jersey City, New Jersey. This swim was Grace's longest time in the water and her longest swim without current assists.
David Uprichard, 48, of New York, finished in 15 hours and 59 minutes. He was supported by Manuela Jessel of New York City, and Hayley Joseph of Coventry. David has experience swimming into Canadian waters, having completed Kingdom Swim's 15 Mile Border Buster this past July. This was the longest swim of his life.
Paula Yankauskas, 60, of Hyde Park, swam into Magog as the sun was setting, finishing in 19 hours and 55 minutes. She was supported by Deborah Beier of Hyde Park, and Cynthia Needham, also of Hyde Park. She also had experience crossing into Canada during Kingdom Swim's 15 mile Border Buster.
It's believed that Paula is the oldest person to swim the length of the lake, ever. She smashed the record for the longest time in the water set by Elaine Kornbau Howley in 2011, with a time of 17 hours and 59 minutes.
Franco Prezioso, 48, of Bel Air, Maryland, swam to the Canadian Border, but pulled out at that point.
Three additional support boats accompanied The Search, piloted by Bruce and Karen Lippens of Derby, Greg O'Connor of Natick, Massachusetts, Robert Fernald of North Hampton, New Hampshire, Phil White of Derby, Pam Ladds of Newport, and Elaine Korbau Howley of Waltham, Massachusetts.
In Search of Memphre was started in 2011 on the weekend of the tenth anniversary of 9/11. The goal of the 25 mile, international swim is to promote a more open border between the United States and Canada and to search for the legendary and swimmer friendly lake creature, Memphre.