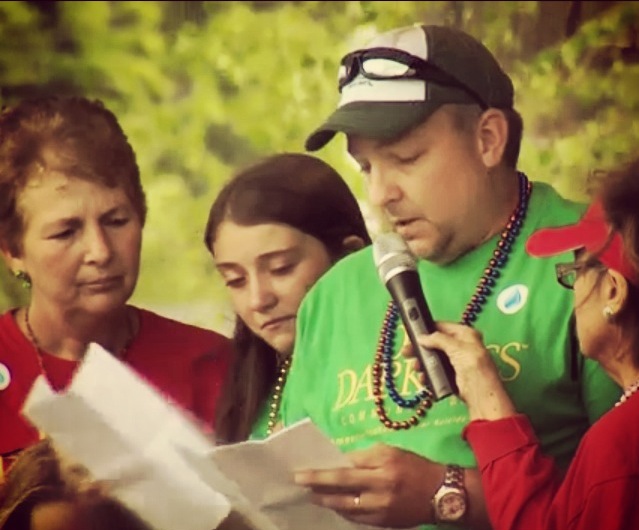 NEWPORT — For Mary Butler of Troy, who helped organize the Out of the Darkness Community Walk to prevent suicide on Saturday, the success of these events goes beyond the number of people who participate, or the amount of money they raise.
That said, the Out of the Darkness Community Walk, which just completed it's third year, has been successful on both those fronts. Their first year goal was to raise $5,000. They ended up raising $30,000. Last year, the event had 150 walkers. This year around 180 gathered in Gardner Park.
If you ask Butler how the real success of these walks is measured, she has a good answer.
"We're seeing a lot of healing taking place from this event," she said. "The first year we had a lot of people here, but there was a lot of grieving taking place. This year we see the healing that has happened, as people get together and bring this subject, that is so taboo, and bring it out into the open."
From the Gardner Park gazebo speakers shared how suicide and depression has had an effect on their lives. Butler spoke to the crowd before the walk, remembering her brother who died in 2005 at the age of 50, after battling bipolar disorder. Mark Bathalon, with the support of his mother Lillian, and nieces Mariah and Lacy, gave a heartfelt account of the death of his brother John in 2011.
Sporting multicolored beads around their necks, walkers took to the streets of Newport at around 10 a.m.
The event is estimated to raise over $10,000 this year, with 50 percent of that money staying in the state. These funds can be used locally in many different ways, such as supplying videos for high schools in the area, or to host a bipolar educational session. The need for suicide prevention is a year round effort, and the money raised on Saturday ensures that the resources are there to keep this important work going.
If you were unable to attend Saturday's walk, you can donate to the American Foundation for Suicide Prevention through their website at: www.afsp.org.
If you or a loved one is in a crisis, you can call the hot line at 1-800-272-TALK (8255) or Vermont 211. There is also a local support group that meets at Faith Lighthouse Church, on Route 105 in Newport. The group meets every third Thursday each month from 7 to 9 p.m.