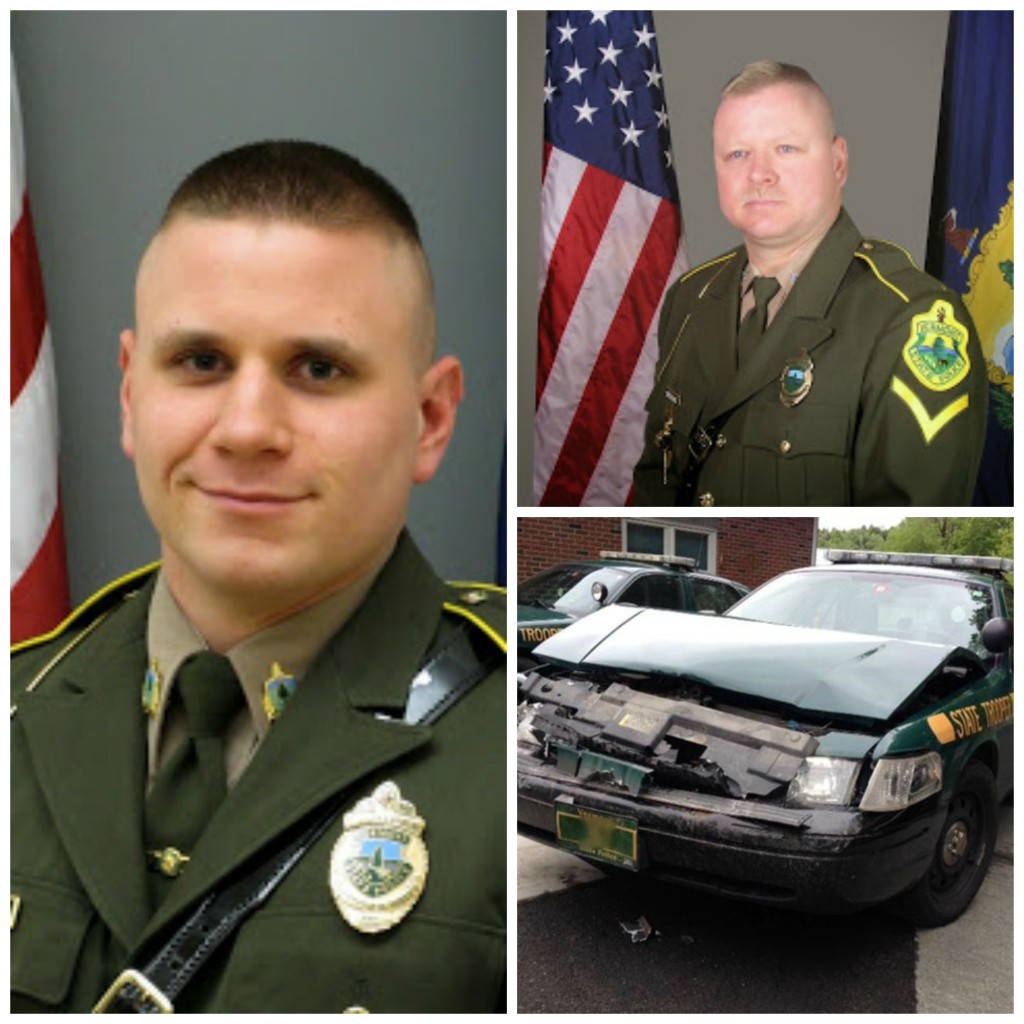 BARTON — Vermont Attorney General William H. Sorrell has announced that after a review of the case, Vermont State Trooper Seth Loomis and Sergeant Denis Girouard were legally justified in the use of deadly force when they discharged their firearms at Eric D. Jackson, a 28-year-old Vermont inmate on furlough status. The police officer involved shooting occurred on May 28, 2014 in Barton.
The legal standard for the use of deadly force is whether the officer reasonably believed that he or a third party was in imminent danger of death or serious bodily injury, and that deadly force was necessary to respond to that threat.
The incident began in the early morning hours of May 28, 2014 when Jackson ran a stop sign in a green 1994 Jeep Cherokee in Caledonia County. Loomis and Girouard pursued the Jeep, but Jackson did not pull over.
According to the report, the officers pursued him for eighteen miles through Orleans and Caledonia Counties at speeds approaching 100 miles per hour. Girouard was familiar with Jackson from his criminal history and recognized him when he viewed him in the Jeep's side view mirror.
When Jackson finally stopped the Jeep on Burton Hill Road, he accelerated the Jeep toward Girouard's cruiser, striking it on the passenger side. He then backed up forcefully into Loomis's cruiser with enough force to dislodge the cruiser's video camera. Jackson again accelerated forward toward Girouard, who by this time had exited his cruiser and was yelling at Jackson to stop. Girouard had his handgun drawn and could see Jackson looking at him. Both Loomis and Girouard reported fearing that Jackson was attempting to kill each of them by running them over. As the Jeep accelerated towards Girouard, both Loomis and Girouard fired shots at Jackson.
As both officers fired shots and yelled commands to stop, the Jeep again accelerated backwards, becoming partially stuck on an embankment. Girouard could see Jackson attempting to manipulate the vehicle shifter and Girouard feared the vehicle was not disabled.
Girouard fired his weapon at Jackson until Jackson slumped down in his seat. The officers fired a combined total of twenty-nine shots.
The officers administered first aid until EMS arrived. Jackson was transported to North Country Hospital and then Dartmouth Hitchcock, where he received treatment for multiple gunshot wounds to the face, stomach, shoulder, and hand.
As part of the investigation into this incident, multiple interviews were conducted of the officers involved. Additionally, the Vermont State Police Crime Scene Search Team and a Crash Reconstruction Team were involved in the investigation.
Reports and recorded interviews were provided by the Vermont State Police to the Attorney General's Office on July 3, 2014.
The Attorney General's Office concluded that Sgt. Girouard and Trooper Loomis were reasonable in their belief that they were in imminent danger of death or serious bodily injury when they fired at Eric Jackson.
The statement issued by the Attorney General's Office reads:
Given what appeared to be a serious threat to their lives, using deadly force was reasonable and justified. The officers' actions were found to be consistent with their training to continue the application of deadly force until the threat of death or serious bodily injury is neutralized. Orleans County State's Attorney Alan Franklin has completed a separate and independent review of the investigation and has reached the same conclusion.