DERBY – They came from places like Utah, Texas, Connecticut, and Quebec, just to name a few, to take part in this year's Kingdom Triathlon.
Saturday's event saw contestants ranging in ages from 13 year old Kayla Audette of Northfield, doing the 1.75 mile swim in Seymour, to 75 year old Dominique Amyot, of Rivière du Loup, Quebec, doing the Ollie, a 1.75 mile swim, 15 mile bike, and a 10 K (6.2 mile) run/walk.
It was a perfect day from start to finish. The rain and thunderstorms held off until long after everyone had crossed the finish line.
Petey Valentin posted his third consecutive win of The Sprint in a time of 1:21:08.
Home town girl Laurie Durivage, 50, of Derby, finished fastest woman in The Sprint with a time of 1:39:53.
Doing her fist ever triathlon, Mary Ellen Griffen, 48, of Danville, finished 4th among the women with a time of 1:54:18.
The Ollie set up a great horse race between Natalie Lang, 37, of Watertown, Mass, finishing with a time of 2:41:07, just 4 minutes ahead of Doreen Audette, 41 of Northfield.
The overall winner, running away from the field, was Craig Thomspon, 41, of Framingham, Mass, with a time to 2:25:23.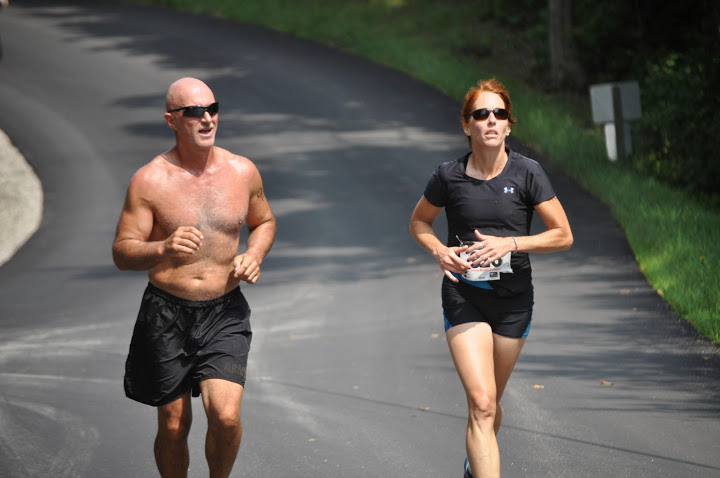 Chuck Kreger, 45, of Salt Lake City, Utah, led from start to finish in the Aquaman, posting a time of 4:57:41.
Not far behind in the women's division was, Elizabeth Campbell, 32, of Mystic, Connecticut, with a time of 5:14:00 and Deb Battaglia, 46, also of Salt Lake City, with a time of 5:23:57.
"I'm a triathlete who swam competitively in high school," said Margaret Harlow, 22, of Austin, Texas. "I love the even-up distance of the swim in the Aquaman Triathlon."
Margaret was fast out of Seymour, but her bike malfunctioned and she was forced to pull out, winning her a free entry to next year's Aquaman Even-Up Triathlon. In good spirits, she stuck around for the award ceremony, and came back and did the run anyway, just for the fun of it.
Families running, biking, and swimming together has become one of the sleeper themes of this year's Kingdom Games, and the Kingdom Triathlon was no exception. Many teams consisted of family members, and even a few couples took part in the challenge together.