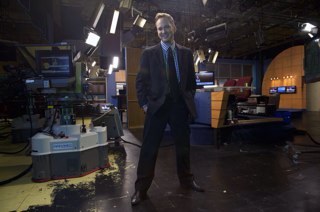 NEWPORT — Darren Perron, the WCAX anchorman with local roots, received another award this week, this time being voted the "Best Local TV Journalist," by Seven Days Vermont readers.
By now Perron is probably used to winning awards. Throughout his career, he has already picked up an Emmy Award, and been nominated for an Emmy Award nine times. He has recieved ten Edward R. Murrow Awards, and a dozen Associated Press Awards. He is also the only non-network reporter in the U.S. to be nominated for a GLAAD Award.
This most recent award is part of the Seven Days Vermont best of Vermont awards called "the Daysies," where readers cast their votes in categories ranging from best shoe store, to best new restaurant, to best meteorologist.
More than 10,000 Vermonters weighed in on the state's 2014 awards, with 650,000-plus individual votes in 177 categories. This was the 12th year that Seven Days has organized the awards.
Darren anchors the Channel 3 News at 6 p.m. on WCAX. He attended Lake Region Union High School, and has family in Barton and Glover. He responded to the good news through Twitter.