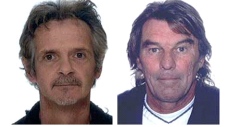 STANSTEAD, QC — The RCMP are reporting that they, along with other police agencies, dismantled a drug trafficking ring that used secret compartments inside refrigerated trucks loaded in the United States, to bring cocaine into Quebec.
In all 17 people from Quebec were arrested from Bolton, Lake Brome, St. Jerome, as well as other cities in the region. Most of the men arrested were truck drivers.
Police say cocaine was packed in the refrigerated trucks in California, then concealed by shipments of fruits and vegetables that ended up on food shelves inside Canadian supermarkets.
The RCMP and the Canada Border Services Agency are saying that Denis Simoneau, 60, of East Bolton, oversaw the smuggling ring that involved the long-haul truck shipments, and are alleging that he served as the groups leader.
Authorities are searching for Raymond Demers and Wayne Rutherford, who remain at large.
The accused will be in court on Friday to face charges of drug trafficking, conspiracy, and money laundering.
The investigation, known as Project Crypto, was three years in the making.
Are you on Instagram? Cool. So are we. CLICK HERE to follow us for a behind the scenes look at Newport Dispatch.
.