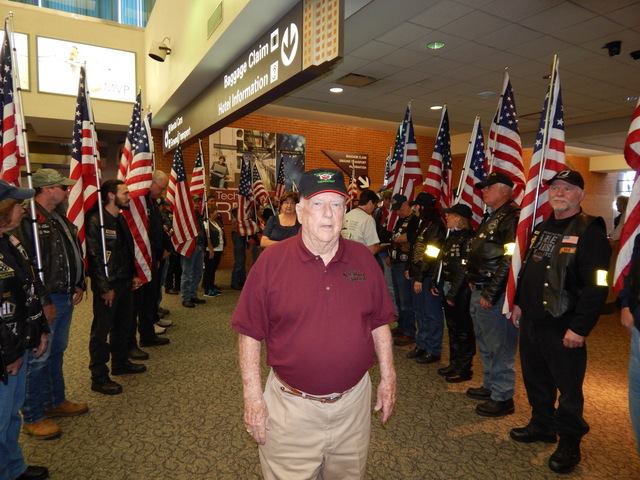 All photos courtesy of Scott Wheeler, owner and publisher of Vermont's Northland Journal.
DERBY LINE — It was a long and honorable weekend trip to Washington D.C. for Derby Line resident Joe Queenin, as he took part in what is known as an Honor Flight. Queenin, a veteran of World War II, was accompanied by Scotth Wheeler, who traveled as a chaperon.
An Honor Flight is conducted by non-profit organizations dedicated to transporting as many United States military veterans as possible to see the memorials of the wars they fought in at no cost to the veterans.
The two started their 22 hour whirlwind trip to D.C. with a bus full of other veterans escorted by Vermont State Police from Burlington to the New York border. New York State Police continued the escort to the Albany airport.
Disembarking the bus, the group was given what Wheeler described as "the biggest hero's welcome imaginable," making their way through the crowd cheering them on.
"Joe's mouth literally dropped open when he saw all of this," Scott Wheeler said. "He was stunned beyond belief."
From Albany the two traveled with a group of other World War II veterans for the honor flight to Washington D.C. When they landed in Baltimore, the veterans were again greeted by throngs of people, including active military.
Another massive display of patriotism awaited the group as they arrived at the World War II Memorial in Washington D.C.
The memorial, which opened about ten years ago, was something that Queenin had always wanted to visit. Through the Honor Flight service, not only did he get to achieve this goal, but he got to do it in style.
Both Queenin and Wheeler were stunned by the beauty of the site. For Wheeler, who had visited the site once before when it opened, it was just as impressed the second time around, especially having the honor of accompanying Queenin and the other veterans for the trip.
The group retraced their footsteps, arriving back at the hotel in Burlington at 2 a.m., about 21 and a half hours after leaving for the adventure. Both were wiped out, but a dream had come true for Joe and the other veterans who made the journey to visit a memorial to the war that shaped their lives.
"Yes, it was a great experience," Wheeler said. "For all of us, the veterans and the chaperones."