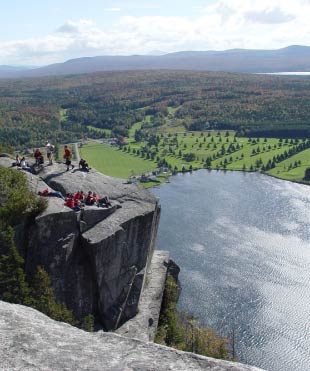 BALDWIN'S MILLS, QC — Authorities in the Eastern Townships of Quebec are confirming that a man, described as being middle aged, fell off of the Pinnacle located in Baldwin's Mills, over the weekend.
It appears that the fall was considered a "voluntary action," which would indicate that it may have been a suicide.
The communications officer with the Surété de Quebec, Aurélie Guindon, said earlier in the week that the initial investigation into the incident points toward this possibility.
Because this is the case, there is no more information being given by the SQ, as it is their policy not to issue any public statements or details in cases of possible suicide.
Mount Pinnacle is a popular hiking destination for people in both the Eastern Townships, as well as Vermonters, as it is only about 12 miles from the border at Derby Line. There are easy walking trails to the summit, which overlook Lac Lyster.
Are you on Instagram? Cool. So are we. CLICK HERE to follow us for a behind the scenes look at Newport Dispatch.
.