NEWPORT — "Rasputitsa," is Russian for "the mud season."
The first annual Rasputitsa Spring Classic, a gravel road bicycle race, came to Newport on Saturday. The race covers 47 miles, 31 of which are gravel. The event raises money for the Mary E. Wright Halo Foundation, which helps people in Orleans county struggling with the costs of cancer.
About 350 riders came out to Newport to start the race at 9 a.m Saturday morning. The race finished in Newport as well.
Ansel Dickey, of Woodstock, took home first place, finishing the race in 2:28:27.9. Ted King finished just 5 seconds behind Dickey, and Tim Johnson came in third about a minute later.
Lyne Bessette, from Knowlton, Quebec, finished at 2:48:37.7, taking home first place in the women's category.
The race took riders through some of Vermont's coldest and most barren landscapes. Riders came through Troy, Jay, Westfield, Lowell, and Coventry.
The race was started by Dirty 40 Productions, which was created by Newport area residents, Hiedi Myers and Anthony Moccia. The group is getting ready for another race in August, the Dirty 40 Fall Classic, which will start at Junior High Drive in Derby.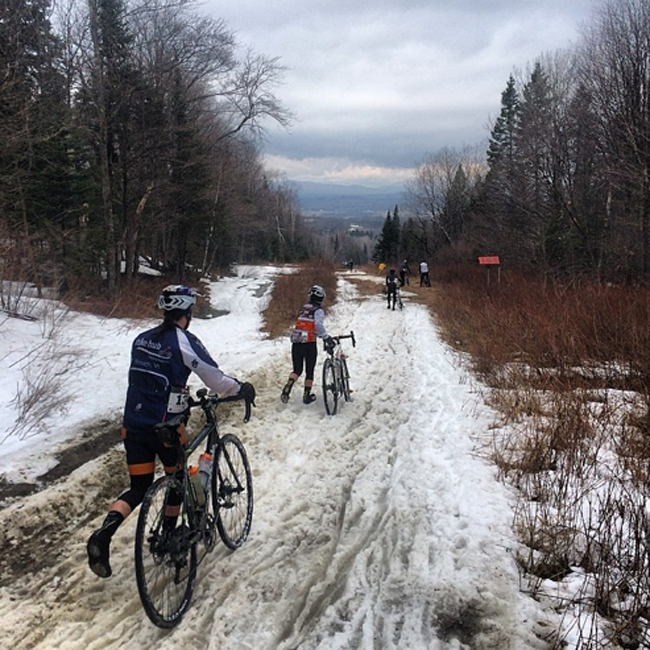 The upcoming race in August is hailed Vermont's toughest gravel road race, covering 60 miles. The Dirty 40 will also raise money for the Halo Foundation. For more information on the Dirty 40, click here.
Photos courtesy of Instagram users: cyclosomatic, vincemalo, swinney, morganbps, hbroek, bbeecc56, cppow, anseldickey, philipharwood, rdruttenberg, thomparsons, and Dirt Wire TV.